Ice Skates for Women
Women who wear ice skates professionally are gifted athletes and spend thousands of hours on figure skates building their skating skills. Stars like Nancy Kerrigan, Michelle Kwan and Peggy Fleming probably never even tried on hockey skates as they had to shop for the perfect figure skates that would help them get to the top.
Consumers today have a huge array of products to choose from. As you search for the perfect ice skates for you, the most important part of your decision will have you match the equipment with how you intend to use them.
Shop by Types of Skates
Recreational Skates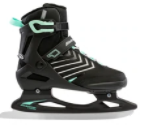 Recreational models are built for comfort on the ice and convenience off the ice. You will find options like a softer, waterproof boot with binding systems that make it easy to put them on and take them off.
Laces are fine too but understand they will take more effort to get them on and off.
For a very reasonable amount of money shop for details like stainless steel blades. You'll have to pay to sharpen all ice skates someday but if you purchase stainless, it will be less often as stainless will provide durability.
Figure Skates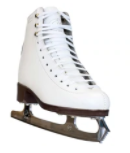 If you are thinking about spins and jumps or other tricks on the ice, figure skates are what you'll be buying. Shop for figure skates with thick heel padding, extra durable blades and most importantly a durable toe pick to enable those tricks
Advanced and professional ice skaters will often buy boots and a blade separately on account of their exacting needs but for those buying figure skates for more casual use your search can certainly include complete sets.
Hockey Skates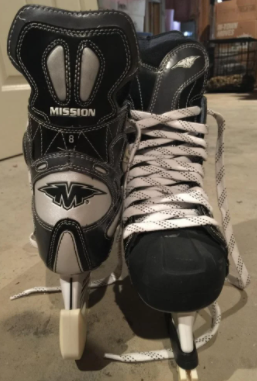 Increasingly popular among women, hockey can offer a great challenge for those who love team competition. Search for skates without a toe pick and shop for extra protection in the front and back of the skates.
Buying tips for hockey include being especially sure to get the right size as having the wrong size will either pinch (too small) or have your feet excessively moving around impeding the ability to turn, stop and start.
Shop with Us
Skates.com is proud to offer a huge selection for you to search. It is true that in non-ice skating time, you may want to order inline skates for women or roller skates for women for your cart to keep your skills sharp (or just to have fun.)
Get your protective gear, helmets and activewear to be fully equipped. Everything to go with skates for women!
Our customer service is excellent too! Your order will be handled promptly. We also offer quality advice from our experts. Call us with questions!
Related Pages