Speed Roller Skates
You like to drive fast, to work fast, to run fast and you even walk fast. When it comes to skating, the only specialty skates for you are speed roller skates.
Unlike inline skates, quad skates built to go fast are generally indoor - not outdoor skates. Speed skates for indoor use still will maintain control because of the advantage of having four wheels.
This is a sport that requires high levels of fitness and strength and a roller skate that matches this strength.
4 Main Parts of a Speed Skate
There is a different skill set in going fast in quad skates as opposed to inline speed skates. The athlete knows that maneuverability might be compromised so they have to be really good to get around the rink with the pace they crave.
1) Wheels
Expect that the wheels on these skates to be way up there on the durometer scale - as in scores near 100a. Hard wheels mean the skater can transfer their energy faster and more directly to every wheel.
Some skaters choose a wheel that is larger than the average 62mm. This is especially true for longer races where sprinting is only one part of the race.
2) Bearings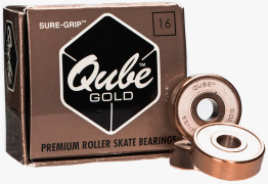 At the high end of the ABEC scale (8 or 9) bearings are extremely smooth and roll easily. So are Swiss 3D. Since this is the essence of speed skating, having as little friction as possible is of utmost importance.
The elites in this sport will even sometimes utilize ceramics in their bearings which possibly have the lowest friction of any skate bearing you can shop for.
3) Low Top Skates
In order for speed skates to have maximum range of motion in the ankle, the boots are cut low. Kids with feet that are still growing will often need a boot that focuses on stability to compensate for the low top.
4) Lighter Weight
On an overall basis, a skate built to go fast will be lighter than most other skates. Women, men, and kids can have a quicker stroke off the starting line with lighter skates.
Quad speed in this sport comes from the rapid transfer of power from the legs to the wheels and a lighter skate facilitates that.
Roller Derby as Speed Skates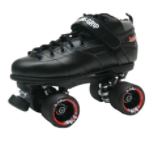 This sport does require you to go fast but banked tracks help make the turns where passing is so critical. The Roller Derby company is one of the top brands in making this type of skates.
Price
For consumers that shop based on price, it is important to shop for sales. When you search for sales on popular brands like Riedell for example, the window for bargain prices may be narrow.
Shop the Skates.com clearance site regularly as these models sell out quickly. We keep the sales page up to date for your convenience.
Request the Best
Whether you are looking for fast roller skates for indoors or outdoors, or for ice skates or inline skates, Skates.com is your source for high quality, high value skates. Helmets too. You can count on us for prompt and accurate shipping to your front door anywhere in the country.
Questions?
Call us to get the answers you need. Our stellar team of customer relations professionals are friendly and eager to be of assistance.
We get questions all the time like, "Do these skates come in pink?" We understand you don't shop for skates every day so call us to clarify any aspect of your purchase.