Ice Skates
No one knows who invented the first ice skates, but the best theory today is that about 4000 years ago some real live genius in Finland attached some animal bones to their boots (or shoes) to improve their winter travel speed. While ice skates have dramatically changed over the centuries, one thing has not: ice skating is fun!
The blade has been made of various materials, but once metal blades were introduced there was no turning back as the ability to maintain an edge with stability made all the difference in the world. But ice skates have become increasingly specialized as more and more activities and modern refrigeration technology have made ice skating a year-round activity from Sweden to Argentina and everywhere in between.
Ice Skate Construction
While boots and blades are the two big parts making up modern ice skates, there is much that goes into the making of high quality skates. Most skates feel better on the feet as a result.
Blades
While steel is the metal of choice now for the typical skate blade, there are many different levels as to the quality of the steel. This explains why these items may carry some pretty wide price ranges. Aluminum alloys and carbon steel are being used in some figure skating models.
Stainless steel is increasingly being used as it will stay sharper longer and resist rust and corrosion. Different types of skates will have different blades as is readily apparent when looking at figure skates vs. hockey skates for example.
Toe Picks
The first toe pick did not show up until the mid-1800s and it radically changed figure skates. The jagged cuts at the front of the blade allows radical changes in direction.
Previously, figure skates were perfect for making graceful arcs and circles. With toe picks you have skates that can easily allow spins and jumps anywhere on the ice.
The Rocker
This is the curvature from front to back. This what allows easy and graceful turns by children and adults alike even for the beginner skater.
The Boot
While the traditional leather upper for ice skates is still mainstream, recreational skates that do not need to have quite as much ankle support as demanded by the professional skater now have options of all kinds of synthetics with or without cushy insulation.
The Heel
Once again, the type of ice skates will dictate the height and shape. Expect those made for hockey will look and act dramatically different from the pair used by skaters who simply want to coast around the rink with their significant other on date night.
Laces and Other Bindings
While laces remain the favorite for many skaters as they make for a virtual custom fit for ice skates, they are also slow especially for the beginner who also has trouble lacing them so they are too tight or too loose. As a result, newer style ice skates are increasingly using clasps and BOE enclosures to simplify entry and exit especially for boys' and girls' models. These bindings make it much simpler to pull your foot out and head for the hot chocolate!
Tongue and Ankle Padding
This is all about comfortable skating but there is such a thing as too much padding as it may get in the way of having ice skates that will turn when you want them to.
Skate Types
Knowing how you will use your ice skates is the key to deciding which pair to buy.
Recreational Ice Skates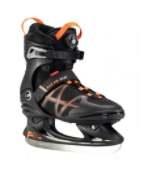 All beginner skaters are recreational skaters! Having fun with friends and family and being comfortable are most important to these new skaters. Look for a toe that is not too dramatic to avoid catching it at unexpected moments.
Hockey Skates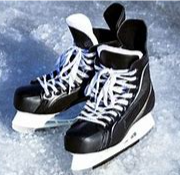 With protection for the front and back of the leg, these skates will sometimes be used by skaters to learn since there is no jagged front catching at unexpected moments. These ice skates are designed to start and stop fast for those seeking to play this sport that demands this skill.
Figure Skates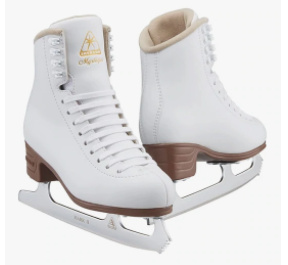 These are designed for spins and jumps and other feats of gravity defying activity. Kids may want these ice skates on account of watching the Olympics and will want to represent their country.
Figure skates though, are ice skates that really ought to be called professional figure skates. Yes, an entry level figure skate is possible but before spending the money on this kind of equipment, be sure the skater has the skill and balance and body strength sufficient to justify this investment.
Shop for Sports Equipment Here
With a full product range for ice, roller and inline skating, Skates.com is the perfect place to get exactly what you need to help you go as fast and as far as you dare. Don't forget to shop our sales too.
We have a huge selection of activewear that is sure to please. And our protective gear is especially handy if you are taking up a new activity or continuing one you love.
Our knowledgeable staff is here to answer all your questions too. Curbside pickup is available in SE Michigan if you are heading out to the rink today.
Related Pages