Figure Skates
Figure skates are like a good friend: they support you in good times and bad, they are fun and may be popular (or not), and you know they will go the extra mile if you need them to. Certainly, ice skates are no substitute for real friends, but when you are on the ice, you will need your figure skates to be at their best when they are new and until these items are totally worn out.
Recognize that figure skates are different from other ice skates. Understanding how figure skates are going to be different will help you see your way through as you look for the right ice skates that meet your needs.
Comparing Ice Skates
Understanding the differences between various ice skates will help you search for and buy the best products for you.
Figure Skating vs. Recreational Skating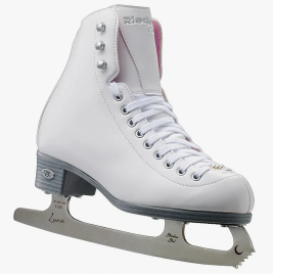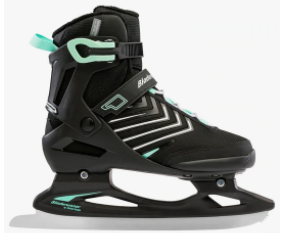 Let's state the obvious first: Figure skaters want to hit jumps and spins which automatically means a beginner level skater is unlikely to find figure skates will help them get more proficient.
So, what makes these ice skates differ? Figure skates assume you will want to have your feet elevate when jumping and will therefore demand substantial support on landing.
The Boot
Figures will usually (but not exclusively) have stiff leather boots that lace up. This leather is extra thick and stiff to make your ankles handle the impact on landing. Recreational products will often have a softer boot with buckles and other binding systems on account of these skaters wanting comfort first.
Not all figures will have a leather boot and some recreational skates will have a leather boot. When you look at impressive companies like Riedell, you learn to do shopping based on the overall product, not any one criterion.
Padding
With figures, the heel takes plenty of abuse and requires plenty of support. Look for a boot that will help spread out the shock at impact and has some padding regardless of the boot being leather or not.
Blades on a Pair of Figure Skates
Ice skates for competitive figure skaters will often involve buying blades separately from a boot. But for the typical figure skater it is not worth the money to make these purchases separately.
Toe Picks
Figure skating relies on abrupt changes in direction to accomplish spins and jumps. To do this, figure skaters dig the toe pick into the ice. As a result, with these products the toe pick may be more radical than a recreation product.
Durable Blades
Skates for competitive skaters must carve smooth and clean lines all over the ice in addition to withstanding the stress of spins and jumps. These will tend to be extra high-quality steel to maintain a "like new" edge to these items. Know that the most popular items are made extra well and for that you will pay a bit higher price.
Hockey vs. Figures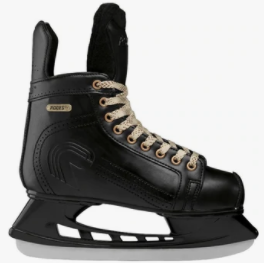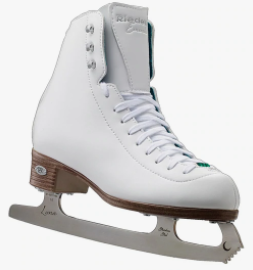 Since hockey ice skates don't assist with jumps etc. the boot and blade construction is different.
The Boot
On a hockey skate the back of the boot and the tongue are much higher to provide extra protection. The tongue, in particular has extra padding.
Generally consisting of leather on account of the requirement to offer protection from pucks and other skates, the boot of these ice skates is designed to be used for tight turns and subtle moves like those seen in international hockey.
Laces dominate bindings in these ice skates, but buckles are more and more competitive and could someday be among the best bindings on a leather boot. The heel is closer to the ice as these skaters want a lower center of gravity to make it easy (or at least easier) to find their way to the net.
The Blade
A definitive sign you are looking at a hockey skate is that these items do not have a toe pick. Whether buying new entry level or high-end hockey ice skates, remember that the toe pick simply will get in the way.
Price of Figure Skates
Like anything else, you will learn the best items will require more money as you search for the best values. Ice skates for international competitive participants can get very pricey. Shopping for sales offers is always smart but waiting too long might mean the most common sizes are sold out.
Buying the Best
With our competitive prices and a huge selection, we probably have your size in our store right now. Watch our sales site for incredible values on accessories and inline and roller skates too.
Let our fantastic customer service staff answer all your questions too! Please sign up for email to get news about special promotions and new products.