Hockey Ice Skates
Previously, interest in hockey was confined to some northern states and Canada. But strapping on a pair of ice skates for hockey has gone mainstream on account of the fact that the NHL is getting wider media coverage and youth hockey for junior girls as well as boys is increasingly popular.
Perhaps the biggest surprise is the dramatic expansion of senior leagues playing no check style hockey encouraging recreational level players to grab their sticks and compete. Specific ice hockey skates built just for the sport encourages even wider participation. A new generation of hockey players is looking for the right hockey skate and finding it is easier than ever.
Features of Ice Hockey Skates
Ice hockey skates are not the same as figure skates or beginner recreational skate equipment. In fact, if you wear either of these when you play hockey, not only will your performance be negatively impacted but you will miss out on the advantages provided by most ice hockey skates.
Blade of a Hockey Skate

Certainly, the blade is the most important part of a hockey skate. The most obvious difference from other ice skates is the complete absence of a toe pick.
Due to the type of skating done in hockey skates, a toe pick would simply get in the way and be a major impediment when skating backwards. Figure skate blades are the worst for hockey as the toe pick is more radical even than that for recreational models.
Curved Blade
Ice hockey skates also are curved upwards in the front and the back. This is to allow for easier stopping and starting and for those with a high-performance skill level, skating backwards on defense.
Durability
For the best performance of a blade, very high-grade steel is a necessity and does come from any manufacturer worth his salt. A sign you can have confidence in a brand is if the skates hold their edge through all the abuse.
Replacement
While rare, if a blade breaks, new skates are called for. The best hockey skates should provide years of use. A broken blade cannot be repaired but can be replaced.
Ice Hockey Boots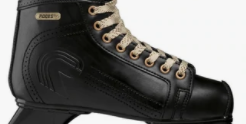 Even a casual review of the appearance of ice hockey skates reveals a far different profile than other skates. Here, you see a higher front and back in these skates.
Greater Protection in Front

A pair of hockey skates should enhance the ability to start, stop and turn quickly. But this game has a puck that is flying off of the stick and is often moving close to the ice at high speeds.
On defense, the puck could (and does) strike the front of the boot. The tongue is therefore oversized to accommodate padding thereby creating protection.
Toe Protection
The toes area also has some hard-shell protection for the foot. This protection is a standard part of the boot.
Protection in Back
The high back provides protection for the Achilles tendon and all those ligaments coming out of the foot. This protection is also important to keep other players' skates and their blades from making contact with the heel area.
Ankle Protection
A quality brand of skate will provide some protection here too. Players prefer, however, to have minimal pads in the footbed. This allows for better feel for the ice and control over acceleration and turning.
Laces
Some consumers may want to shop for a boot that uses straps or buckles. But old school laces are the norm for a hockey skate as they provide the ability to provide the right fit for wide feet and most any non-standard foot shape. Sure, you want to quickly get out on the rink, but a few extra minutes lacing up the skates will be worth it.
Expect the skate fit to be tight regardless. While extra room might sound like a good idea, it really gets in the way and any surplus space will indicate you do not have the right skate.
Who Makes the Best Hockey Skates?
A brand list for hockey will usually include Roces, Bauer and CCM. Shop several models in order to find the best price for the money.
Shop for the Right Hockey Skates
Skates.com is proud to offer a huge selection of ice, roller and inline skates. Our standard price is sure to be competitive, but you can often find the gear you need on our sale page for a price that can't be beaten.
Protective Gear
Don't forget about getting a helmet and other protective gear. We have a great selection for you to shop.
Excellent Customer Service
While you shop, if you have questions feel free to contact our outstanding team of customer relations professionals. They really know their stuff!
We ship promptly. But if you are unable to wait for us to ship to you and you are in SE Michigan, we do offer curbside pickup. Join our email to hear about the latest deals.