Roller Skate Wheels
Roller skate wheels that are great for outdoor surfaces are softer than rink wheels. On the sidewalk the skater needs some grip. 
We feature outdoor roller skate wheels from Sure-Grip, Radar, Kryptonics, and Atom. If a skater uses 65mm roller skate wheels, they will be slightly heavier but roll over cracks and bumps more easily than smaller wheels. Outdoor roller skate wheels in sizes 62mm and smaller are lighter and lower to the sidewalk for more balanced roller skating. These are best roller skate wheels for beginning roller skates. Outdoor roller skate wheels in 70mm are the heaviest but also feature the long, smooth glide and are considered faster roller skate wheels.   
It is pretty much certain that Olivia Newton-John's character in the movie Xanadu wasn't thinking too much about the quality of her roller skate wheels. With the focus on roller skating, this cult favorite has a certain charm but in the real world, every skater should be thinking about their roller skate wheels to make their skating as much fun as it can be.
There are substantial differences across the many skate wheels available on the market. Learning about the various categories will be helpful as your search will pop up various wheels on your radar screen.
2 Key Concepts
1) Wheel Size
The diameter of roller skate wheels will influence many aspects of skating. The most import thing is to understand that the bigger the wheel, the more speed it will offer.
62mm is considered the average size diameter. Beginners and kids should stick to smaller wheels and those involved in speed skating should look at larger sizes.
2) Wheel Hardness
Hardness is measured on a durometer scale from 1a to 100a. The harder the wheel, the higher the score.
As a general rule of thumb, anything 90ish or higher is considered hard. Hard wheels encourage speed while softer wheels encourage grip and comfort.
2 Broad Categories of Skate Wheels
1) Outdoor Roller Skate Wheels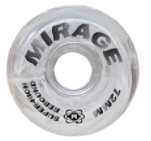 With outdoor skating, your roller skates will encounter rough surfaces, cracks in the pavement and irregular blocks of asphalt and concrete. This will generate significant vibrations that are rough on feet, ankles and the equipment too.
This is why it is important to utilize wheels that are softer with more grip than those found with indoor wheels. While these may be less durable than other wheels, it simply makes more sense to be comfortable and stress free while skating.
2) Indoor Wheels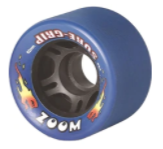 Here is where your options get plentiful. While these items are usually harder than outdoor models, there is considerable variation across the wheels that are ideal for different indoor skating activities.
Specialty Categories
You should match your wheels to the expected activity and your skill level.
Recreational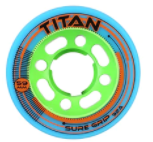 You can sort through all the options, but if you are simply getting out to the rink for some fun and exercise, you can expect good performance from an average size and average hardness wheel.
Speed
Skaters looking for brands that can help generate speed, gravitate to the highest hardness scores and largest diameter. In addition, these skates should pair their wheels with bearings that roll the smoothest and easiest (ABEC 9).
Rhythm (Artistic)
In order to do their tricks, rhythm skaters need rapid acceleration and speed, so a harder (over 90a) wheel is desired. However, this is not a universally held view as some skaters value control over all other attributes so a higher grip wheel would be desirable for them.
Derby
The contact sport of roller derby requires great stability from skates and wheels. Since they need to turn and accelerate quickly a higher than average hardness is in order.
Color Options

Part of the fun with wheels is that you can find just about every color imaginable including blue, green, pink, purple and whatever your imagination desires.
Prices?
Deals can be found on our clearance page but be sure to shop here often as the most popular brands sell out fast.
Shop with Us
Be sure to get your safety gear here along with ice and inline skates. We ship promptly. If you have questions as you shop, call us! We are the sort of company that values customer service!