Artistic Roller Skates
Vincent van Gogh was certainly an artist among the finest ever to pick up a paintbrush. But it is relatively certain he never pulled on a pair of artistic roller skates.
Artistic roller skating is similar to figure skating on ice skates in that the sport is all about spins and jumps and elaborate footwork. However, many see artistic roller skating as more difficult since competitors are on wheels which cannot dig into the surface unlike ice skating which can.
Artistic Roller Skating Equipment
Artistic skates certainly can be used to do laps around your local rink. However, you would be wise to avoid recreational quads if you intend to do well in any kind of dance competition or other artistic skating event.
Boots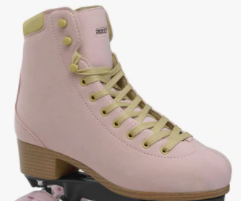 The boots for most forms of artistic skating have high tops to provide maximum support for skaters' ankles. Boots are mostly made from leather to provide that support but increasingly synthetics are viewed as viable options. Dance boots may be a bit softer than those for other contests.
The subcategory of jam skating is a notable exception as skates for this style will usually have a low-cut boot. While quads are the dominant form, sometimes there are artistic inline competitions requiring high top inline skates.
Wheels

In the artistic world where speed is not the primary objective, you will often see a wheel at or below the typical diameter of 62mm and with hardness above 90a. The contact width is typically less than average.
These roller skates often have combinations of wheels as opposed to one type for all four. An example would be to have softer on the outside and harder on the inside.
Skate Plates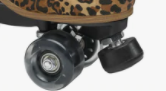 While lightweight metals like aluminum dominate, these roller skates must pay special attention to the toe stop. A skater faces the decision of whether to have a stop, a smaller plug or nothing at all at the toe.
Shop for skates that have removable pieces in the toe to allow for maximum flexibility. The toes are often threaded to provide that flexibility.
Bearings

The higher the ABEC rating the smoother the roll. Shop for skates that have at least a 5 rating to get the smoothness a contest will demand.
At the pro level they will often use ceramic bearings as opposed to the usual steel as their needs are especially demanding.
4 Types of Artistic Events
Dance
With either pairs or solo dance options, there are subcategories that may or may not allow jumps and/or spins and are subject to judge's scoring.
Freestyle
The world of freestyle includes an array of exotic spins and jumps including the execution of tricks on the edge of their rollers.
Figures
Figure skating generally requires the skater to place their skates onto a series of connected circles with a variety of diameters.
Creative Free Skating
Utilizing music, free skating involves a variety of both dance moves and tricks to impress judges.
Shop for the Best Skates
Skates.com is pleased to offer a large selection of skates for everyone from the recreational beginner to the advanced event participant. Whether you are shopping for a new boot or replacement parts we are your one stop shop.

Be sure to check out our quality activewear and protective gear too. Submit your request to get our email newsletter and to hear about sales. Our clearance page has amazing deals that are in heavy demand.
Call our friendly team of customer relations pros with any questions. We love to help you get the best fit skates for your needs.