BEST INLINE SKATES FOR BEGINNERS


Whether you're returning to inline skates after a long hiatus, or you're stepping into skates for the first time, you've come to the right place. Inline skating, also known as rollerblading, is a form of skating that first gained popularity in the 1990s. Unlike roller skating, which uses two pairs of wide wheels, inline skating has 'inline' wheels from the base of the heel to the toe.
Inline skating is a fun, healthy activity that promotes cardiovascular health and general fitness. As a low-impact activity, inline skating offers many of the same benefits as running but with less wear and tear on joints. In addition, skating is a family-friendly activity that can be enjoyed by all ages indoors and outdoors.
In this guide, we'll give an overview of how to get started inline skating, discuss key features of inline skates, share popular brands for beginners, and what gear you'll need to get started.
Roller Skates vs Inline Skates
Early on in your skating career, you'll likely find yourself asking the question: Should I roller skate or rollerblade? Of course, one is not better than the other, which ultimately makes the choice up to you. That said, some key differences between the two may impact your decision.
Roller skates are used primarily on indoor rinks; they are most often worn recreationally and offer excellent balance and control for dancing. However, that doesn't mean that they're dainty. In recent years, they've gained more popularity through the high-contact sport roller derby.
Alternatively, rollerblades can be adapted for indoor or outdoor use and are great for covering long distances and hitting high speeds.
Can a Beginner Use Inline Skates?
If you're skating for the very first time, you may be nervous about putting on your first pair of skates. But there's no need to worry; skating is a sport you can learn at virtually any age.
Although some kids' inline skates are available with 'training wheels,' older children and adults can begin skating with regular inline skates, also called rollerblades. All it takes is a little bit of practice to learn the basic mechanics, and you'll be skating in no time.
How to Inline Skate for Beginners

There are five key steps to learning how to inline skate:
1. Getting the right gear
2. Developing balance
3. Practicing 'the push'
4. Learning how to brake
5. Perfecting the turn
For an in-depth look into the mechanics of inline skating, check out 5 Easy Steps to Learn How to Inline Skate.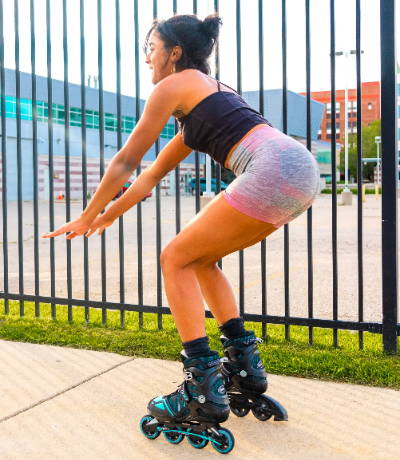 ---
Features of Beginner Inline Skates

It's easy to get overwhelmed by all the different inline skates that are out on the market. Although there are different types of skates used for specific purposes, there are also extra features that you'll need to consider as well.
Here, we'll give you a crash course of inline skate features so that you can go into your first purchase well-educated to find the best inline skates.
Indoor vs. Outdoor Skates
Although commonly, you'll want to use your skates for both indoor and outdoor skating, there are a few things that you should be aware of. Indoor skates are going to have wheels that are softer and have a better grip for an indoor rink than wheels that are designed for outdoor skating. Similarly, wheels for outdoor skating are harder and may be too slick on the smooth surface of an indoor rink.
Although beginner skates often offer cross-functionality, knowing how and where you'll be skating can help you choose a pair of rollerblades that are right for you.
Inline skate wheels are a critical part of your skate. Two major factors impact the type of wheel you'll want as a beginner skater: wheel size and wheel hardness.
Wheel size refers to the diameter of the wheel. For example, recreational inline skates commonly use fitness wheels, ranging from 80-110 mm in diameter. Wheel size is essential because it influences both speed and control.
Both hockey and aggressive inline skates commonly use smaller wheels because they offer a low center of gravity. The low center of gravity on smaller wheels is beneficial because it provides better balance, faster acceleration, and greater maneuverability when quick stop, start, and turns are required.
Larger wheels, on the other hand, generate more speed. Although they may not accelerate as quickly as smaller wheels, larger wheels require less effort to maintain momentum across long distances because larger diameter wheels cover more ground per rotation. For this reason, you often see large wheels in race skates.
Wheel hardness, also known as durometer, also impacts performance. Fitness wheels typically have a hardness of 80A-88A, which is harder than most indoor skates but not as hard as freestyle or speed skates. Softer wheels with a durometer of 80A and below offer better grip, which improves maneuverability. However, softer wheels may not be comfortable for long-term wear, generate less speed, and may not be desirable for outdoor use.
In addition, you should also be mindful of what material the wheels on beginner inline skates are made out of. These days, most roller blades have polyurethane wheels that glide effortlessly across most smooth surfaces. If you can, avoid skates with plastic wheels which experience greater friction and may break more easily.
Bearings directly impact the friction the wheels experience; the less friction, the faster the speed. Bearing grades typically operate on a nine-point scale – the higher the number, the higher the level of manufacturing precision.
Typically, bearings are not a significant consideration for recreational skaters because recreational inline skates are for shorter distances. Higher-numbered bearings work best in large wheels; however, matching bearings to wheel size is always good practice. Look for higher-numbered bearings if you are buying inline skates with wheels over 80mm.
Skate Boots for Beginners
If you want comfort and ventilation when you're working up a sweat, skates with a soft boot are a great beginner option. In addition, soft boots offer greater flexibility and control, making it easier for novice skaters to develop balance and familiarity with skating.
Stiff boots are used chiefly by advanced skaters that need less flexibility to land tricks and brace for impact. However, once you're ready to level up to park or urban skating, a stiff boot will help you perform with less opportunity for injury.
The three most common types of skate frames are plastic frames, aluminum frames, and carbon frames. Plastic frames are most common in recreational skates and are great for getting started.
However, skates with a plastic frame are heavier and don't provide long-term durability compared to an aluminum frame. A durable aluminum frame can withstand a higher impact at a much lower price tag than a carbon frame.
An aluminum frame may offer the best balance of affordability and accessibility so you can grow into your skating ability over time.
Closure systems refer to the method that you use to secure your skate. Since the introduction of rollerblades in the 1990s, closure systems have improved dramatically to offer greater accessibility and improved performance.
Here are several examples of different types of closure systems to ensure you get the most secure fit.
Tried and true, the old school lacing closure system is still around for a good reason – it works! Although it may not be as easy to get on and off as quick-lace systems, standard lace provides support where needed.
Standard lacing systems are often combined with other systems like ankle straps to get the best of both worlds: support and accessibility.
If you've ever gone skiing, you're likely familiar with ratchet buckles. Ratchet buckles borrow from ski boot technology to create a faster and easier option to get on and off while maintaining a secure fit.
If you notice that you're having difficulty tightening your strap-on inline skates, consider shortening the end of the strap so that it feeds into the buckle more easily.
Power straps are an accessible, kid-friendly closure system that quickly gets people into their skates with no fuss. The hook and loop strap is practical by themselves or in combination with other closure systems.
It is hard to imagine a system that is faster to use than power-assisted laces. Quick-lace systems only require a very short pull of a very durable cable, and then you're done.
The boa system is a variation on the power-assist concept, but the cable is pushed through a dial. Boa closure systems are quick to put on, and the dial makes it exceptionally easy to tighten the boot and make a highly personal, custom feel.
What Brands Have the Best Inline Skates for Beginners?

Whether you're an adult looking for your first pair of skates, or you're looking for a gift for the young skaters in your life, it's essential to find the right skate. Fortunately, Skates.com offers great budget inline skates to help make skating both accessible and fun.
Check out these options for women, men, and kids:
Best Beginner Inline Skates for Women

If you're skating for the first time, the Fit-Tru Cruze 84 is a great place to get started. The boot's fully lined padded liner offers enhanced comfort while you develop strength in your ankles and calves. Whether you're on the rink or hitting the pavement, the highly breathable material provides excellent ventilation to keep your feet cool and dry. Its aluminum skate frame gives beginners a lighter-weight skate to helps develop control and maneuverability, while its 84mm/82A wheels and ABEC 9 bearings provide manageable speed on a smooth roll. These skates fit comfortably using a cuff buckle, velcro straps, and lace closure systems to keep you secure. Although these skates are designed to accommodate comfort and accessibility, they tend to fit less snugly than other models.
If you're coming off a long hiatus and want to get back into skating, the Zetrablade Elite is a great place to get started. Perfect for beginner to intermediate skaters, the Zetrablade Elite boot is designed for comfort and security to help keep you on your skates longer. The mesh liner provides breathability and flexibility, which is excellent for promoting personal fitness. Your feet and ankles are supported by a speed lace closure system featuring a 45-degree velcro strap and cuff buckle for a snug, secure fit. The Zetrablade Elite's 80mm/82A performance wheels and SG5 bearings ensure that you can maintain moderate speeds that you can grow into as you develop your skating skills.
Best Beginner Inline Skates for Men

The Rollerblade Macroblade 80 is a great entry-level men's skate that will help get you rolling. The Lo-Bal aluminum frame offers efficient energy transfer with every stride, while its 80mm/82A wheels and SG5 bearings enable you to maintain moderate speeds. In addition, its Performance Form-Fit liner provides comfort and padding in the ankle and tongue, while its high cuff, 45-degree strap, lace closure, and cuff buckle ensure you're securely and comfortably locked into your skates.
The men's model of the Zetrablade Elite offers all of the great features and functionality as the women's skate, making them great for recreational skating. The mesh shell keeps feet cool and dry while its cuff buckle, 45-degree strap, and speed lace closure system make getting these skates on and off a breeze. Its 80mm/82A performance wheels and SG5 bearings maintain moderate speeds more efficiently, so you don't advance out of this skate too quickly.
Best Beginner Inline Skates for Kids

The K2 Raider Boy Adjustable Inline Skate is a great budget-friendly skate to get young kids on four wheels. The skate's vibration-absorbing composite frame features an interlocked base which promotes good balance and a low center of gravity. The 70 mm/80A wheels and ABEC 3 bearings offer enjoyable speed that won't overwhelm beginners. Your child will get several seasons of enjoyment out of these adjustable inline skates with a frame that also accommodates wheels up to 76mm for added speed as your child progresses.
Get the little girl in your life on her skate journey with the K2 Marlee Boa Inline Skate. The boot's boa closure system is great for little fingers to help create a custom snug fit. The 72mm wheels and F.B.I frame help to absorb road vibrations making a smooth roll and fun, manageable speed. With these adjustable inline skates that feature adjustable sizing up to five full sizes, you also won't have to worry about younger kids having overnight growth spurts.
The Roces Orlando III Adjustable Junior Skate is a classic skate that's great for boys and girls. These adjustable inline skates feature several colors to choose from and boast a UniTech frame which provides greater control as children develop their skating skills. In addition, the two memory leaver closures help get kids in and out of skates quickly, while the 72mm/80A wheels and ABEC 3 bearings provide a smooth roll with moderate speed. As a bonus, the Roces Orlando III offers four sizes of adjustable skates to support kids as they grow.
Protective Gear for Beginner Inline Skaters
When you first start skating, it's necessary to wear protective gear to prevent injury. Without it, one swift fall while you're still mastering the basics could deter you from ever getting on your skates again.
Here's some protective gear that beginner skaters will be thankful for:
Protective Pads and Wrist Guards
Protective equipment may include knee pads, elbow pads, padded shorts, wrist protection, and helmets, which help protect skaters from hard falls. Particularly for kids, we recommended knee pads and elbow pads to avoid scrapes and bruises.
In addition, wrist guards help stabilize the wrist and absorb hard falls. However, be cautious not to catch your fall with your straight arms; a slight bend at the wrist and elbow can help prevent major injuries.
As you gain confidence in your abilities, you may choose to downgrade your gear to wrist protection and helmets.
It's also vital that you purchase a proper skate helmet. Unlike bicycle helmets which offer limited coverage and only withstand one impact, skate helmets provide a full-coverage hardshell capable of withstanding multiple impacts.
Because inline skaters often fall backward, the full coverage and soft foam interior padding are better suited for protecting you from serious head injuries. If you notice that your helmet is cracked or seriously impacted, it's time to buy a new helmet.
Which Type of Skate is Best for Beginners?
There are many skates to choose from, and getting a pair of skates that suits your experience level is a great way to guarantee future enjoyment. The best type of beginner skate is a recreational or fitness skate. Not only are they more budget-friendly than advanced models with high-end technology, but they're also comfortable and accessible to ensure long-term use.
What are you waiting for? Start your skate journey by purchasing a pair of beginner inline skates.
---