Outdoor Roller Skates
Venice Beach in Southern California is noted for being the home of a large number of eccentric and unusual characters including one who roller skates while playing the electric guitar. While roller skating beginners probably shouldn't attempt this activity anytime, wearing outdoor roller skates is actually a great idea for great fun and exercise for just about everybody.
Outdoor roller skates are designed to smooth out the bumpy surfaces one is likely to encounter outdoors and to make for a more comfortable experience. Outdoor skates can make for a much better experience even if you aren't playing the electric guitar!
Top 10 Reasons to Roller Skate Outside
While known for providing plenty of fun at the indoor rink, roller skates have plenty to offer when used as outdoor recreation equipment. But roller skates used for the indoor skating rink may not be optimal and skaters should want to add outdoor roller skates to their shopping list.
1) Fun on Skates
Since they are so easy to use, outdoor roller skates will put a smile on your face even the first time you put them on. Since there are no issues with balance or stopping and starting, roller skates make for instant enjoyment.
2) Perfect for the Entire Family
Men, women, and kids can roll right away with a pair of outdoor roller skates. Of course, you should add some protective gear, especially for the beginner skater, but roller skates are made to free you up from worry from the very start.
3) Great Exercise
The best news of all is skaters get the benefit of movement whether cruising around the neighborhood, enjoying a nicely paved path, or even doing tricks at the skate park. Building lower body and core strength are tangible benefits of getting up on outdoor skates.
4) Competition in Roller Derby
Roller derby, whether indoor or outdoor, is amazing team competition on roller skates (although sometimes on inline skates.) While roller derby is a strenuous sport best enjoyed by those with more skill, it is fun to watch and perfect for those women and men whose competitive drive will add to the experience of being on wheels.
5) Travel in Style
Outdoor roller skates are often used in urban settings for getting to and from work. In addition to being a fun way to commute, because of the wide variation of boot style, roller skates are perfect for making a fashion statement whether your office is 10 blocks away or one block away.
6) Skate to See the Sights
Walking and running are great ways to exercise too, but because you can cover more distance on outdoor roller skates than you do on foot, getting up on wheels allows you to see more of that bike trail you like to traverse.
7) Skates are Low Impact
Unlike running, time involved in a roller skate activity should generate far less stress on your knees and lower body. Skates are designed to absorb shock with wheels and padding in the boots.
8) Easy to Transport
Unlike bikes, which are another great way to exercise, roller skates are much easier to transport. Bikes, of course, typically need a rack to be moved from one place to another unless you have a pick up truck or large enough sports utility vehicle.
9) Outdoor Skates are Social
Women, men and kids will be able to converse easily while enjoying outdoor roller skates. When you skate, you can talk and that makes for a wonderful family activity or worth making sure you add to your menu of date ideas.
10) Easy to Control the Speed
While you certainly can generate plenty of speed on outdoor roller skates, the customer looking to limit speed will find it easier to do so with roller skates due to the softness of the wheels.
How are Outdoor Roller Skates Different?
Understanding the anatomy of outdoors skates will help every customer choose the best outdoor skate for their needs.
Outdoor Wheels are Softer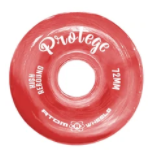 Possibly the biggest difference with outdoor skates is the wheels. Because outdoor surfaces are likely to be rougher than on an indoor rink, outdoor wheels are softer to absorb shock and ignore minor bumps and cracks.
Hardness Ratings
Wheel hardness is measured on a durometer. Shop for a reading of 78a to get optimum hardness for outdoor use. Be careful if you search for too soft wheels (under 78a) as they will wear out more quickly.
A rating around 85a is often considered a "hybrid" wheel meaning they are considered suitable for outdoor and indoor roller skates. But in general, a wheel for outdoor roller skates should have softer wheels than for an indoor roller skate.
A customer wanting more hardness due to a desire to move faster should shop for a wheel with a high durometer reading. So, it is smart to add a search for the right hardness rating as part of your menu of shopping criteria.
Size of Wheel
Outdoor skates are likely to have wheels that are a bit higher size diameter and a bit wider than indoor roller skates and sometimes bigger than inline skates used outdoors. A wheel on an outdoor roller skate that is higher than standard should be used with caution by those new to the skating due to the higher center of gravity.
The quality of a wheel can be gauged by the quality of the materials used in construction. Look for high quality urethanes and polys in the sales description.
Best Outdoor Boot
Outdoor roller skates have many different boots. While leather is often thought to provide the most support, some want their outdoor roller skate to have a boot that is more flexible than the boot made from leather.
A high or low top boot will be a choice depending on the type of activity you will be doing in your skates. Roller derby, for instance, is often associated with a low top boot.
The Plate
The plate (with the truck) is what attaches the wheels to the boot. While a plate high in durability is desirable all the time, it is absolutely critical for doing tricks at the skate park.
Aluminum is often a great material as it is the classic light yet strong metal. Magnesium is the super high price metal plate that is available for those whose search is focused on ultra-premium categories.
Bearings
There actually are significant differences in the quality of bearings in wheels that have bearings. Like the outside of all wheels, this is a wear and tear item that is especially important with outdoor skates. You can't go wrong buying the best and that applies to bearings too.
Categories of Outdoor Skates
Women's Outdoor Skates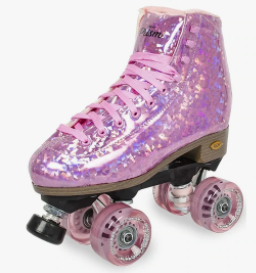 While there are size charts to convert women's sizes to men's and vice versa, why compromise? You can usually find the type of roller skate made just for you.
Skates for Men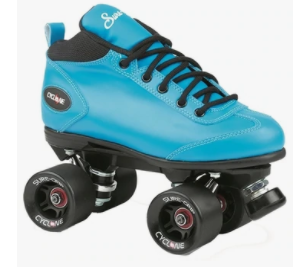 Guys, if you want those glittery purple brands, you will probably shop for a women's skate. The price should be the same and the label will reflect the categories for whom the skate is made. You are certainly free to buy from the categories best for you.
Kids Size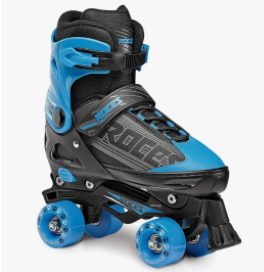 The great innovation is that kids are skating through growth spurts and not changing their skates! The best brands have seen the light for their customers and now have available an adjustable skate that is sold to parents that are price conscious - and who isn't?
The advantage of not having to buy a new roller skate every time your kid's feet grow is well worth shopping for. Adjustability should be one of the key categories of search criteria when researching brands.
Best Brands
All the leading skate brands make new outdoor roller skates for adults and kids. And if you find an indoor skate you like for the right price, find some outdoor wheels and swap them to get most of the benefits of outdoor models. Here are a few examples of brands to add to your shopping list.
Sure Grip Skate Company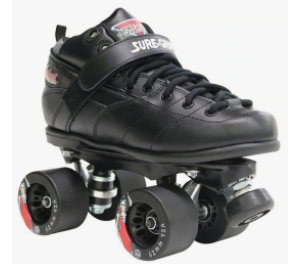 Sure Grip is one of those brands that should be a part of every customer search. Making skates since 1945 means they are not new to the business and if you add them to your shopping categories, you are likely to come to the conclusion that Sure Grip really knows skates.
Roces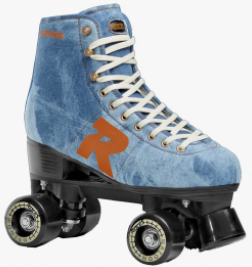 Roces is a customer friendly company making outdoor and indoor roller skates. Innovative designs and a stellar reputation mean they deserve to rank among the best skating companies.
Other Top Brands
Pacer is a skate brand to shop especially where price is an important consideration.
What About Colors?
Colors are a highly personal choice as you shop for a new outdoor skate. Color does not impact performance.
Price is not a factor with color. However, available color could be extremely important when you shop for kid's skates. They may have a strong preference to consider.
Inline vs. Roller Skates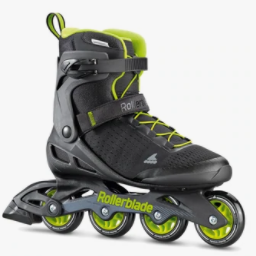 Each version of skate has advantages and disadvantages. The good news is you don't have to decide as you are free to participate in both.
Roller skates have the big advantage with ease of use. With two pairs of wheels, balance is much easier to come by.
In addition, rollers are extra great for little kids. They simply will find them to be easy to learn and use at every age.
Rollerblades though, are the favorites of those who want to go fast and far. While you hear about marathons with rollers, they are far more common with inline.
As for turning, especially at a high pace, rollerblades allow for more quick turns making it easier to dodge small cracks, rocks and other objects. Some argue that rollers are easier to turn indoors on a rink or track.
In derby sports, skates are far more popular. As there is body contact throughout the competition, staying upright is easier while roller skating with the side-by-side configuration of the wheels.
While both activities have some form of acrobatics as options, at the skate park you will usually find more blades. Indeed, while there are acrobatic skates, special inline models are specifically designed for grinding and other tricks.
Both activities have racing as highly competitive endeavors. In most circumstances, the inline skate will offer superior speed.
Just as with racing, hockey is played with both. But inline more closely resembles ice hockey, is more popular and is actually often used as an off-season way for ice hockey players to stay in good hockey shape.
Shop by Price
While shopping for skate brands based on features (like having your size in stock) is most important, at some point it may come down to price. Be sure to check our sales page where clearance models are sold for an amazing price! As a shrewd customer, you might even find a gently used pair is available for a stunning sales price.
New Skates in Stock
Skates.com links you to all the best new roller skates available. A giant selection of color choices too.
Come and see we have a huge stock ready for shipping from our store. We ship promptly too!
But we also have a huge stock of inline and ice skates. Need protective gear? We have you covered there as well. Plenty of activewear to add to your cart to use anytime you are ready to work out.
Our friendly skating experts are here to help you with size, feature, or color questions. Call us with questions and see how amazingly helpful we can be.