Women's Ice Skates
There is something magical that happens when blades scrape across ice: the sounds, the feel of gliding effortlessly, the laughter of enjoying time with friends and family. When pulling on a pair of women's ice skates, you know you are in for fun - and some exercise at the same moment.Getting the right skates depends on what sort of activity you will choose to engage in while wearing your skates. It makes a real difference!
Types of Womens Ice Skates
Recreational Skates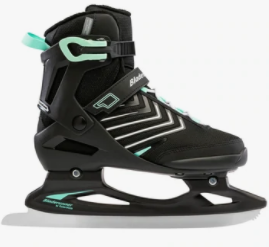 If your skating isn't trying to prove anything to anybody, the skates you need are probably recreational. What you want to purchase is a comfortable skate that will take care of your feet and ankles.
Find skates with details like closure systems allowing easy on and off. They might vary between hard or soft boots but will have a moderate toe pick. Select these as the perfect skates in which to learn.
Figure Skates

Maybe you want to do some spins or jumps or other tricks. If so, you will want to shop for figure skates as these will have much stiffer boots and bindings. As such, comfort is not the first priority of figure skates.
Search for Special Blades
The blade will be a higher grade of steel and able to withstand the additional stresses a customer put on them on account of the weight loading applied while doing tricks. A more radical toe pick is found in these items in order to facilitate rapid direction changes.
These skates will offer additional padding in the heel to absorb shocks, but buying these skates is generally not for beginners notwithstanding the popularity that is seen around the Olympics. Wait for skills to improve before you choose to buy these.
Hockey Skates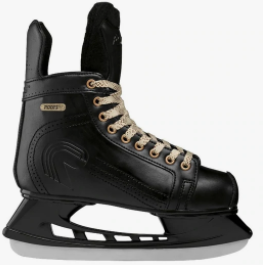 Any brand advertising these products know you will be involved in a competitive contact sport. Since they have no toe pick whatsoever, they can be ok for learning in, but they really are great for this specialty sport.
Padding
When shopping for these, search for additional padding at the back and in the tongue but not much elsewhere. Firm bindings will assist in direction changes.
Sort Through Deals
Money is always a consideration (but not the only consideration) as you shop for ice skates. Narrow your search for the best brand for your needs. Then buying from a sale will offer you the chance to save a few bucks.
Who Makes the Best Womens Ice Skates?
You can't go wrong buying skates from Roces Inc, Jackson, K2 and Reidell. There are so many great choices these days that it is hard to find choices that will be mistakes. Just match your skills and expected activities to the available ladies ice skates and you will be fine.
Have Questions?
Our store includes an outstanding group of friendly experts who are here to answer questions as you go to fill your cart. Call us!
Our sales offer tremendous bargains on new and gently used skates. But sales don't last long as these clearance items have only limited availability so when they are gone, they are gone. Act fast for the widest range of choices.
Shipping
Shipping of orders is prompt and curbside pickup is available from our SE Michigan location. While shopping, be sure to checkout our huge selection of activewear and protective gear too.
Related Pages: