Inline Skates
Inline skating a fun easy way work on your fitness. There are numerous health benefits that come from skatingranging from mood improvement, muscle strengthening, and it's easier on joints than running. Skating it is a great way to maintain endurance that can benefit your performance in other sports.

Inline vs. Rollerblades
This is just an example of misunderstood terminology. Inline skates are the category and Rollerblade Inc. is just one of a number of companies making inline skates and battling for every customer.
However, since rollerblades became the clearly dominant name, it really is a generic label just like Kleenex is for tissues. Therefore, the term "rollerblades" is used interchangeably with the term inline skates.
Inline vs. Roller Skates
Both of these healthy and fun activities involve attaching wheels to frames which, in turn, are attached to a supportive boot that is key to control, stability and balance. But the applications of two pairs of wheels as opposed to having them inline are huge.
Generally, inline is better at speed and maneuverability. Rollers are easier to use especially by the beginner and kids.
Both can be used indoors or outdoors but having wheels in line means it is easier to avoid cracks, rocks and other obstacles. Having a wheel next to a wheel with all that stability can make it easier to get around a rink.
Competitive sports are part of both but inline dominates hockey while roller skates dominate roller derby. Both are involved with acrobatics and tricks.
Ice Skates vs. Rollerblades
While the differences are obvious, it is worth noting that they are actually complimentary sports. Inline skates are often the perfect skates designed for off-season workouts by hockey players
Best Brands of Inline Skates
The best news of all is that there are several brands that are excellent for beginners and advanced skill level skaters. Our high-quality inline brands come in various colors and categories.
Maximize Your Performance
Having the right pair of skates will allow you to perform to your maximum potential. There are skates to match all skater types ranging from aggressive, fitness, recreational, roller hockey, and urban.
Inline Skate Styles
What type of skating do you plan on doing? Having the right skate will enhance your overall skating experience. Skates.com carries brand name inline skates to match the following inline skate styles:
Aggressive Skates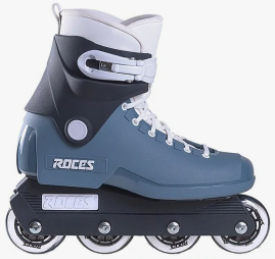 Aggressive skates are generally for advanced skaters who want more speed (and they want it now), and/or are heading to the skate park for jumping and tricks. The "go-fast" types might have large wheels while the tricks crowd could have all kinds of wheel sizes.
Fitness Skates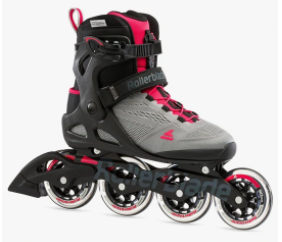 Fitness skates are similar to recreational in that they both feature comfort. They might not have the same top speed as the aggressive gang and these will definitely want their feet close to the ground. Women's rollerblades were originally designed for this style.
Recreational Skates
Recreational skates are used in what is probably the most popular skating style. Here the front wheel is the same wheel size as all the others as skaters work on growing in ability and confidence. Staying in contact with the ground is important as is comfort.
Roller Hockey
Roller Hockey skates will have smaller wheels that facilitate rapid power transfer side to side and forward and back.
Urban Skates
Urban skates often make use of heat molded boots for maximum protection during city skating. Sometimes they have larger wheels if you are looking for speed.
What are Kid's Adjustable Skates?
Since outfitting growing feet can get expensive fast, adjustable inline skates are made to grow a few sizes, making them great for kids. Sometimes these skates have a frame that can accommodate a larger size wheel if your child's skills can handle a faster speed.
If you are looking for a safe pair of kid's rollerblades or adjustable skates, we have a large selection of brand name kid's skates with competitive prices. Save time shopping and spend less on a boot that will grow with your child.
What Size Should I Wear?
Since sizing varies, we recommend you review the product size guide by brand, as this will ensure the best fit for you. Don't fall for the line that says anything like one size fits all.
Do Wheels Make a Difference?
What type of wheel should I look for? Having the right type of wheel can also make a difference in your stride. You should consider a different size depending on the surface you skate.
The bigger size wheels for outside use means you won't get stuck in cracks, and the lightweight quality of the skate ensures you won't be weighed down. Larger wheels mean higher speed and smaller wheels mean more maneuverability.
Do I Need Heel Brakes?
Most people do until they learn the more advanced techniques on how to stop. Some inline skates have removeable brakes so that if your skills become advanced and you want to take them off, you will have that option. The ease and convenience though, is important to most recreational and fitness types.
Wear a Helmet!
We highly recommend that inline skaters wear protection gear. Look for the best brand of speed helmets that are moisture wicking, light weight, and very comfortable to wear. A helmet will offer protection designed to handle impacts.
Protective Gear for Inline Skating
If you are planning to do tricks at the skate park in your inline skates or any kind of street skating, you will need protection from bumps and bruises. Skates.com also carries a full range of wrist, knee, and elbow pads geared to offer protection from injury.
What About Price?
New to skating and want to make sure you love it first? Shop for gently used and open box inline skates at discount! Also, our clearance site may have tremendous values so be sure to check that out too.
It is a useful exercise to do price comparisons as there are significant variations on price. But price should not be the primary criterion you center your search around.
Questions?
Call our expert customer service team as we are happy to help you get the inline skates (and roller and ice skates too) that are perfect for what you need. We stock skates for beginners to experts.
Check out our great selection of activewear too. If you are going to work out, you might as well look good doing it!
Curbside pickup is available from our SE Michigan location.
Related Buying Guides: