Adjustable Inline Skates
Trying to outfit kids feet with inline skates can seem like a real challenge. Since young kids grow so quickly, parents do worry about the expense of replacing skates frequently. Fortunately, the solution is adjustable inline skates for kids.
The ability to have inline skates keep up with kids that are growing quickly makes a big difference. Parents can have their children wear the same inline skates for several seasons and that makes for happy kids and a happy household budget.
How do adjustable skates work?
An adjustable skate works with the push of a button. These skates have markers in the toe to easily adjust skates to the correct sizes. Some adjustable skates can expand up to 5 sizes!
Similar to Roller Skates
Roller skates (quad skates) and ice skates for young skaters also have the ability to make adjustments. The process is similar for all three types of skates.
Are inline skates easy for kids to put on?
Not to worry if your child is still learning to tie their shoes. Look for rollerblades where the boot offers plenty of support where the closure system works with a cuff buckle or Velcro strap to firmly attach the skate to the child's leg. Laces will work for a secure fit in the toe area but are awkward for kids to use all the way up to the top of the boot.
Important Features
Wheel Size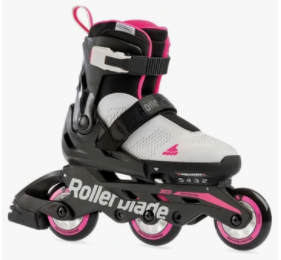 This is a big deal as the size of wheels will affect the center of gravity and the available speed. It is easier to go fast over longer distances in inline skates with larger wheels (over 72mm wheels).
Boys and girls will have smaller wheels than adults. In addition, the wheels typically have bearings that will help keep speed under control.
Some kids skates have the ability to have their wheels swapped out for a wheel size that matches their skills. The best brands in an adjustable skate come standard with high quality components like wheels and bearings.
Importance of Center of Gravity
A lower center of gravity will improve stability and balance. Wheels that are smaller lower the center and keeps the skater weight close to the pavement.
Engineered Mesh for Breathability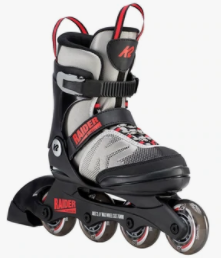 Since the frame is metal, the boot can be a mesh or hard-shell material. Both will provide good support.
Manufacturers use mesh to build in ankle support and at the same time should allow skates to be free of the smells found in boys and girls shoes thanks to the ventilation provided. The light weight of mesh is an additional benefit.
The Brake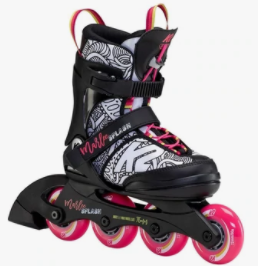 A durable integrated brake is included in most skates for kids. For small kids, the brake is an essential piece of equipment but is sometimes viewed as a personal preference item for better skilled adults.
How do I know if my child is ready?
There isn't a standard age of when kids can learn skating, but there are signs to look for to know they are ready.
The first clue to look for is running without falling to their knees. Second, can your child balance on each foot individually? If the answers are yes and yes, both boys and girls can start whenever you think they are ready.
What safety gear should a kid use?
Regardless of whether they will skate outdoors or at an indoor rink, protective gear is essential. This is true for ice and roller skates too.
A helmet, wrist guards, knee pads and elbow pads should all be worn. Elbow protection is sometimes ignored but that is a mistake even for higher skilled participants.
Find the correct size in kids adjustable skates
Rollerblade sizing is based on a junior fit so that boys and girls recreational inline skate size and shoe size should be the same. Prior to making a selection we recommend you review the sizing guide to insure best fit.
How can I save money?
Be sure to check out our amazing selection of gently used inline skates. You can give your kids a chance to see if they like the sport before investing in new skates. There are times we can offer a sale price so be sure to check out our clearance page too.
Customer support
Here are Skates.com we carry youth sized skates for every skill level. Whether your child is a beginner, intermediate, or advanced you are sure to find their set of inline skates and protective gear in our shop.
Whether your favorite form of skating is on ice or land we carry a full line-up of skates for boys, girls and adults. Check out our great selection of fun roller skates and men's and women's activewear too.
Our shipping is fast and reliable, and our staff is friendly too. The reviews are in: our performance is second to none. Call us with questions!