Fitness Inline Skates
Commuting by city skating, getting some fresh air, and competitive sports are all great reasons for inline activities, but fun and fitness are probably the biggest reasons. So, buying a pair of fitness inline skates is an important part of getting started with inline sports and finding the right pair is crucial.
Fitness inline skates aka fitness rollerblades or inline recreational skates are designed to wear for comfort above all other criteria. Since wearing them for more than a few minutes is likely, you will want more control and support without mashing your feet into tiny, hard spaces.
There are several important parts to getting the right inline skates for fitness. Read on for great tips.
5 Keys for Recreational Inline Skates
1) Know your Limitations
If you are a total beginner on skates, you won't start with much confidence and your body will need to adjust to the physical demands. In particular, the parts of your body typically engaged with inline skating are the knees, feet, ankles, and center (or core).
Newer skaters should be less concerned about speed and more about keeping your knees engaged with a low impact approach. If you have a bad foot, you will be especially conscious of getting a skate that absorbs shock with softer wheels and a cushy footbed.
Buy skates appropriate to your skill level. It makes no sense to have inline causing injuries and fun is what you should be having!
2) Fitness Roller Blades that Fit Perfectly
Be sure to carefully follow the sizing charts that apply to your chosen skates. Generally, a size larger than regular shoes, there are differences from skate to skate and finding a shoe size for some people is a challenge.
While comfort can be viewed as a personal preference, if you are in doubt or between sizes, go up to the next larger size. A rollerblades' boot will stretch just a bit too.
3) Soft Boot vs. Hard Boot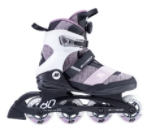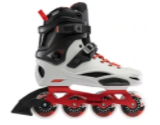 Soft boots will most likely be more comfortable but provide less support. On the other hand, a rollerblade with a stiffer, often aluminum frame might be desirable in providing more confidence as you use them for longer and longer workouts.
4) Smaller Wheels vs. Bigger Wheels
A larger wheel size (over 90mm) is great for longer distances as they will require less strenuous effort to maintain speed. But a smaller wheel size (under 85mm) is better for maneuvering in tight spaces like crowded sidewalks or city streets.
5) Closure Systems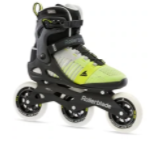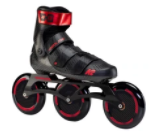 A good closure system will allow you to get in and out of your skates quickly and easily, so your skating time is not otherwise taken up with inconvenient procedures. But, for your skate to be comfortable, finding the right combination of laces, straps, buckles and even knobs will vary from brand to brand and require some homework.
Ankle Support
A good closure system will also provide support around the body of the boot while skating. It will also make a difference as to the overall fit of the skate.
What about Bearings?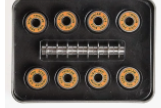 Frames connect to wheels through the bearings. The higher the score the smoother the skate will roll over the ground.
For recreation and fitness skating you won't need these to be top of the line for plenty of fun to be had.
Do I need a Brake?

A fitness skate will often include brakes which is particularly helpful when getting started and for some time thereafter. Some skates have removeable brakes.
Over time, you will learn how to stop without a brake while enjoying this low impact activity's positive impact on your body.
All the Fitness Skate Gear You Need
Skates.com is proud to be your source of all the great company manufacturers in this truly fun sport - and with great prices too. Join our mailing list to hear about exclusive offers. Don't miss our sale and gently used skates sites too.
Helmets Etc.
Don't forget to get your protective gear too. Helmets, knee and wrist pads- everything skating related. You'll have plenty of company as you travel on your new skates on your journey to better health!
Activewear
And our full range of activewear will help you feel good as your workouts get you in better shape too.
Questions about Inline Skating?
Check out our Learning Center for great information and feel free to call us as our in-house experts are here to provide advice and guidance!