Exercise Skates
There are plenty of options when it comes to exercise equipment, and all have various strengths and weaknesses. With skates for exercise however, you have a unique combination of low impact shock absorption, unusually comfortable footwear and options for more control, speed over shorter distances or longer, or even tricks.
Inline skates, in general, can accommodate a wide variety of styles and purposes. If what you are wondering is inline skating a good workout and if you can lose weight with skates, even a casual look at research from the experts will give you a resounding yes!
What are Fitness Inline Skates?
When shopping for fitness inline skates (aka exercise), there are several important characteristics to examine. Unlike regular shoes where personal preference is everything, inline skates have quite a range of differences so finding the right inline skates requires some homework.
Wheels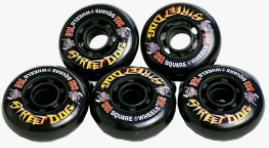 There are differences in a wheel for inline skates used indoors vs. outdoors. Outdoor roller blades will have softer wheels in order to reduce the natural vibrations of paved surfaces.
It is possible to have a "hybrid wheel" that is soft enough to use outdoors but hard enough to use indoors. Just recognize that you will have a bit more vibration outdoors and a little less grip indoors than a wheel made specifically for either surface. Harder wheels make sense for rinks and other surfaces that are already "grippy" and relatively smooth.
Wheel Size
Bigger wheels will sometimes be the preference for wheel size for outdoors if the skater wants their roller blades to provide speed. A bigger wheel size in a skate will make speed easier to come by especially on a longer workout.
Smaller wheels are often found on inline skates made for hockey or city skating where quick changes in direction are called for all the time.
Soft Boot for Inline Skating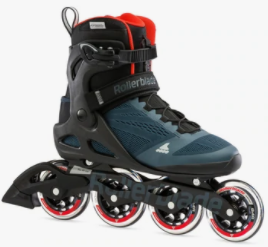 While a soft boot is not required for fitness inline skates, since this skate is all about comfort, a soft construction is often found in an exercise skate. This also means that these are usually well ventilated which keeps feet as cool as possible.
Find the Skate to Fit Perfectly
Unlike ice skates where stiff, leather uppers, fitness inline skates with a softer fitting upper ought to fit well. While shoe size is a good place to start, it is important to consult the manufacturer's size chart or label to be sure you are getting just the right size for your roller blades.
Bindings
In addition, one skate may have bindings that are easier than others to get that "just right" fit. Look for highly adjustable systems that are also easy to get on at the beginning of your workout and off when you are done.
Bearings
Bearings are subject to wear and tear just like blades are in ice skates. The ABEC scale is used to measure the "rollability" of the bearings.
A low rating like 3 is seen in kid's skates as you don't want them rolling quickly out of control. Find something in the 5 to 7 seven range for inline fitness skates.
Aluminum Frame
Aluminum is common in inline skates and ice skates too. It is strong yet lightweight which is the combination ideal for fitness skates. Aluminum will also make for a better power transfer than other metals.
Buying a First Pair of Skates
When starting a new exercise program, it is always wise to consult your physician assessing your overall fitness for starting any activity. But selecting the right skate is the perfect second step.
Both mens fitness skates and womens fitness skates will provide that low impact, cardio building exercise. Most importantly it will be a fun way to get fresh air. Since these skates are also great for simple recreation, count on this being a great family activity too.
Add protective gear like a helmet and knee and wrist guards to the "must have" list for the new skater. While the learning curve is pretty easy, there will be bumps along the way.
Look for Help
Skates.com is a great place to find resources for inline skates, ice skates, and roller skates. Our Learning Center is full of great tips.
Also, our customer service team is happy to answer any questions you may have about skates or other equipment you are considering. Join our email list to hear about sales that can save you money.
We are also happy to provide curbside pickup from our location in SE Michigan. It is time to get rolling and we are the perfect place for you to get everything you need to get started with all the fun you can handle on inline skates.