Womens Rollerblades Size 7
If you are in the market for women's rollerblades size 7, it means you are getting serious about having fun! Rollerblades (aka inline skates) are a fantastic way to get some exercise (either outside or inside), strengthen core and lower body muscles, maybe lose some weight, and do so while hanging out with friends and family.
The big question is, of all the women's inline skates, which brands are best suited to offer the best balance of performance and comfort? To answer this, it is important to assess your own skills and understand which style of inline skates is just right for you. Whether you are on a bike path out in the country or turning laps at the roller center, having the right skate will make a big difference.
Roller Blades vs. Inline Skates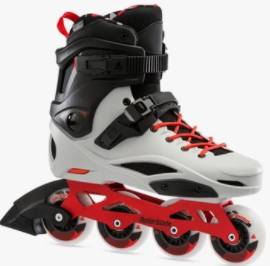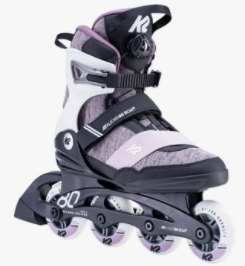 While the Rollerblade Company is certainly an important manufacturer of inline skates, they are far from the only ones. Therefore, rollerblades are inline but not every inline skate is made by Rollerblade Inc.
At one time Rollerblade so dominated the industry that their name became nearly generic term for the entire industry. Today we use the terms interchangeably.
Match Inline Skates to Your Skills
Beginner Skating
At the beginning when you are learning how to start, stop and turn, having inline skates with a boot stiff enough to support you while still comfortable probably means having a soft boot with a comfortable fit. Looking at roller blades in the recreation or fitness style with a nice brake will be a nice fit for your needs.
Intermediate Skating
Now you have really upgraded your skills to the point where your skating is gaining speed and because of the speed, having softer wheels for outside use is important to get a smooth ride. A durable aluminum frame is essential. Some fitness skates will make sense and you are also shopping aggressive skates.
Aggressive Inline Skating
Welcome to the big leagues. Whether you are doing city skating to commute or looking for a pair of skates to wear to the skate park to do defy gravity with freestyle tricks or even being involved in a contact sport like hockey, finding models with smaller wheels for maneuverability and hard plastic boots may well be critical for women at or near the top of the sport.
Styles of Roller Blades
Recreational or Fitness Women's Inline Skates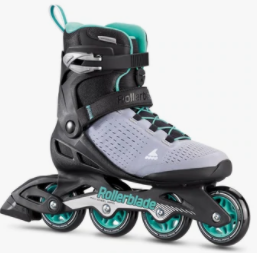 The largest proportion of rollerblades size 7 are purchased by a customer looking to participate in these styles. Roller blades in this category will be interested in stability and play nice with your feet and may have wheels and bearings designed for comfort and not as much speed.
Aggressive Skates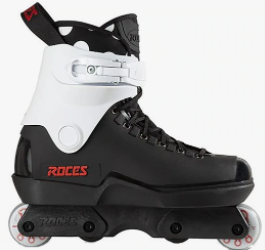 A skate in this category should be built for speed and rapid direction changes. If you purchase these, you can expect a snug fit and even a tight fit. Roller blades like this are not specifically built for comfort so finding the right size is of utmost importance.
Urban Skates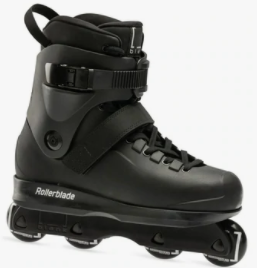 Urban skating means taking on the challenge of navigating busy streets with all their cars, debris, curbs and people. This skate will offer protection from all this mess and get you where you want to go.
Hockey Skates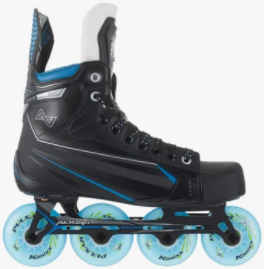 Think of these as having characteristics of both aggressive and urban skates with a wheel set that can match the sharp action but with one specific addition. Look for inline skates with higher backs and fronts with more padding in the tongue.
These boots will take a beating so the frames may be extra tough and the boot made from molded plastic on account of the need to deflect flying projectiles. Frames need extra stability.
What Size?
While your shoe size is a great place to start, not all size 7 inline skates are created equal for all women. Every manufacturer has a shoe size chart to guide you. A wide foot may require going up one size particularly in a recreational skate where comfort is the first priority.
We are pleased to offer women's size 6 rollerblades and women's size 8 rollerblades. You can find size 6 or 8 or 10 and plenty of other sizes too!
Importance of Wheels

Having the right wheel for your activity is extremely important. Women who educate themselves on the importance of hardness and wheel size will find better performance in that activity.
Hardness
Having a softer wheel outdoors will help smooth out the ride. But inside on a grippy rink floor you will want a harder wheel to assist turning without losing anything on comfort.
Size
The bigger the wheels the easier it is to sustain speed. Inline skates delivered with smaller wheels should be expected to make acceleration and turning easier.
What About Price?
Whether you are shopping for a bike or for skates, doing price comparisons makes sense. You will find that price does vary from brand to brand and model to model.
Be sure to checkout our gently used inline skates for even better prices. Our sale page has some terrific deals that are less than our everyday price.
Shop with Us
Give yourself a break and enjoy the convenience of shopping from home. As a high-volume seller, shipping is a breeze for Skates.com. We ship promptly.
Look to us for all the accessories you need to be a fully equipped skater. We have protective gear and helmets galore.
If you have questions, call us and request some time with our friendly local experts. Our knowledgeable staff is here to assist you with every aspect of your skate purchase. Be sure to see our fantastic selection of activewear too.
Need a different size?
Want some guidance on the best rollerblades for your skating style? See our staff picks collection for thebest rollerblades for women. Want to read a little more on the best inline skates, take a read through this article.