Women's Ice Skates

Every year there is a Winter Olympics there is a surge in interest in ice skating. It is easy to understand why mens and womens ice skates become such a hot product in a cool sport. It is certainly true that people enjoy ice skating on account of the exercise, fresh air, and hot chocolate this family-oriented activity provides. The skates you need will be determined by the kind of skating you intend to pursue.
Match Ice Skates to Activity
You can access several different kinds of skates to match what you will be doing in them.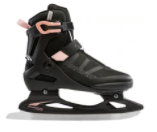 You certainly don't need to ask permission to wear any particular kind of skate. But comfort for your feet is the objective for most people who want to cruise around the rink or lake.
Shop for These Features
You'll find these skates have softer boots, a moderate toe pick, and on some models, buckles making it easy to put them on and take them off.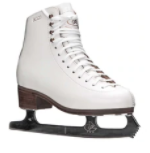 With a bigger toe pick, padded heels and tougher blades, figure skates are what you will want to purchase for tricks like jumps and spins. Laces make it a bit more difficult to access figure skates but provide more ankle support. Shop for a brand with a good reputation.
Speed Skates for Competition
These make sense only for hard core competitors as they are very difficult to make any kind of turn.
With no toe pick whatsoever, some people use these skates to learn skating. Details like a high back and tongue are common to search for.
Take Care to Get the Right Size
Be sure to take the time to consult the manufacturer's chart to make sure you get the right fit regardless of whether you are buying figure skates or any other skate.
Why Size is Important
Comfort, of course is key. But some aspects of skating (like sharp turns) get more difficult if the skates are too big.
Shop with Us
Skates.com is proud to offer a fantastic selection of ice, inline and roller skates. Load up your cart with great values from our clearance site featuring activewear and accessories.
Call our friendly customer service staff with questions. Join our email to hear about sales!
Related Pages: