Recreational Ice Skates
OK, so what if you don't want to do jumps and spins and, so what if you are extremely unlikely to take up contact sports like hockey. That's why, you need recreational ice skates so you can skate around the rink or out on well frozen lakes.
A pair of recreational ice skates are perfect for that chilly evening where adults and children gather around a roaring fire, followed by skating some laps on the ice with a hot mug of cocoa (or other beverages) waiting afterward. Ice skating is the perfect date night or family sport on account of the fresh air fun and exercise everyone gets. In Finland and other Scandinavian countries, they commute to work on skates over frozen canals!
Recreational vs. Figure Skating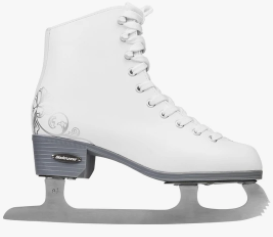 Figure skates have many more demands placed on them than recreational ice skates. Jumps, spins and other acrobatic moves place a huge amount of stress on feet and the blades and skates overall.
The Boot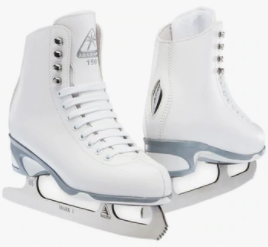 Recreational skates will often have a soft boot unlike figures that will generally have a very stiff boot intended to support the foot and ankle at every turn. In addition, the lacing system is likely (but not universally) to be the old school laces rather than buckles or clasps found with recreational skates.
Blades
A blade for doing tricks will be more durable and able to support all that weight on landing. With figures, extra padding is in the heel as the skater will need a shock absorber when landing.
Toe Picks Matter

Finally, the toe pick might be more radical with figures as this kind of skate has to dig into the ice to make tricks happen. Most recreational ice skates have a toe pick, but it may be scaled back to avoid snagging on the ice unnecessarily.
Recreational vs. Ice Hockey Skates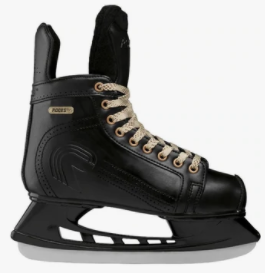 Ice hockey skates are built specifically for the rough and tumble world of hockey. As such, this style of skate is designed to start fast and allow rapid changes in direction for players to break into open space.
Ice Skating with Hockey Padding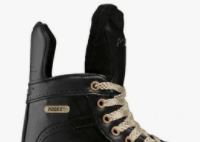 Hockey also has projectiles flying around that can strike unprotected areas of the lower leg. Kids especially, appreciate the details like extra high pads in the back and front including the tongue.
Since hockey skates do not have a toe pick, they might be helpful for the beginner trying to search for balance on the ice.
Shop for a Pair with the Right Fit
As you browse recreational skates the right place to start is always your regular shoe size. Be sure to check the manufacturer's sizing chart and don't get confused by United Kingdom sizes. Look for sizes marked USA or similar.
How to Save Money
As you shop for the perfect set of skates, keep your eye on our sales page for amazing values. There are also deals to be had by investigating our gently used ice skates.
Browse, Browse, Browse
Skates.com is pleased to offer the finest ice, inline, and roller-skating products for those who shop for quality and value. While you are here, shop for accessories like protective gear and helmets. We have a very nice selection of activewear too.
If you have questions as you shop, feel free to call our highly trained customer service staff. They are friendly too!