White Figure Skates
Figure skating equipment is just like other sports equipment: while innovation is always being contemplated by every brand, tradition and customers shopping for the tried and true can dominate. White figure skates have been the standard for women and girls interested in ice skating for many years and there is little sign that this will change anytime soon.
If your daughter (or son) loves figure skating, she is just like many other kids from Canada to Ireland to Japan who are inspired by dreams of Olympic gold medals. When they pull a pair of figure skates onto their feet, they want to look and skate like their heroes on the ice.
5 Ways Figure Skates and Ice Hockey Skates are Different
1) Objective
Since hockey skates are built for speed and fast turns, it stands to reason they would look and operate differently than figure skates that are built for jumps and spins. Figure skates must absorb the shock of landing a trick, so their entire construction is different.
2) Figure skates have more padding

The heel in particular has to take abuse inflicted by jumps, therefore it has more padding and a narrower profile. Hockey skates do have padding at the front and back but that is to protect the lower leg from flying pucks and the stray competitor blade.
3) Blades

The hockey blade is more curved to make sharp turns possible, but the biggest difference is their complete lack of a toe pick. Features like picks are essential for figures so that momentum can be shifted from horizontal moves to vertical moves in an instant.
4) Boots provide good support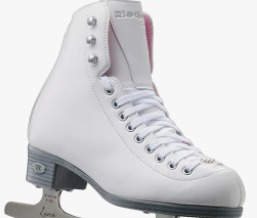 With figure skates the need for support is everything to both adults and kids. As a result, the boots tend to be stiff leather or simulated leather. A hockey skate is also likely to have a leather boot but is generally thought to be less stiff boot.
For hockey, the protective tongue makes the boot look very different due to the higher front and rear. Quality skate boots will require a break in period that generally is shorter for hockey than for figure skating.
5) Color of ice skates
Figure skates for men are almost always black but white figure skates are the norm for women. Skates for hockey are always black.
Why White for Women Skaters?
Recreational skates for adults or kids have taken on a rainbow of colors in recent years. Sure, there are still plenty of black and white skates in this category. But beginner and casual skaters using recreational skates have increasingly been drawn to sturdy yet soft boots with colors like grey, pink or purple.
But figure skating equipment seems to be different. Black figure skates were standard for both men and women until an Olympic Games that was to change figure skating for decades.
In the 1928 Games, Sonja Henie was 15 years old, and she stunned the figure skating establishment by winning the Gold Medal wearing white skates. Even a casual review of the history of the sport saw this win by the youngest woman ever to be a total game changer.
Her record for youngest ever was to stand until 1998 but the impact of Sonja's stunning win lives on in the form of her signature white figure skates beloved by beginners and experts alike.
Who Makes the Best White Figure Skates?
To be sure, everyone makes white skates. But leading brands are consistently Jackson Ultima, Roces, and Riedell.
What About Price?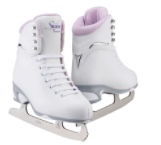 You can spend a lot of money on skates and then after purchasing, keeping them sharpened. Prices can vary but investing in a quality pair of Jackson Ultima, Roces or Riedell skates will pay off over the long haul. Price is certainly one consideration and if budgets are tight, you can get an even lower price on our sales and gently used skates pages.
Shop With Us
Skates.com carries an amazing selection of ice, inline and roller skates in stock and ready to be shipped to your front door. If you can't wait and live in SE Michigan, take advantage of our curbside pick-up.
We also stock a very large supply of accessories like skate guards, helmets and protective gear. Our friendly team of customer service pros are here to answer your questions. Call us with any questions!