Types of Equipment
Depending on where you want to skate and what the weather is outside, skaters can choose to be on a wheel or a blade. Cruising on either is sure to make for an interesting journey for beginners and experts alike. Here is a quick view of each.
Ice Skates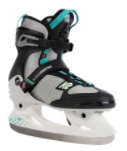 Whoever was the first person in Finland who thought of ice skates some 4000 years ago, they could not have known that attaching a chunk of metal (or whatever) to their shoes or boots would become an important transportation method, a group of sports, and a fun and affordable way to exercise for millions of people.
Ice Skating Components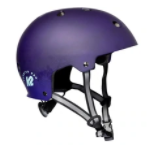 Ice skates today are primarily made up of the blade and the boot that is attached to it. A blade for ice skates has an edge on both sides that the skater uses to turn, stop and start.
Depending on the type of skates, the blade may have an abrasive front piece called the toe pick that is used to dig into the ice in order to get moving and even to execute tricks like jumps and spins.
The boot for ice skates is often made of leather but newer styles can utilize waterproof, synthetic materials with insulated linings to keep the feet warm and dry.
Ice Sports
Speed skating has been around as long as someone has said, "I'll race you to the other side", but it is far from the only competition. Hockey is huge among men and increasingly women, especially in northern climates - bigger even than inline skate hockey.
Figure skating is one of the most popular sports in the Winter Olympics and includes singles, pairs, and has the subcategory of ice dancing. Interestingly, curling does not use any skates.
Roller Skates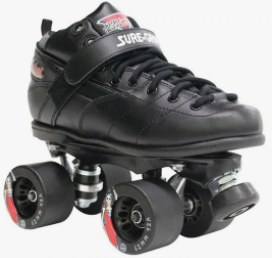 Roller skates have been around for over 300 years and initially were a novelty activity for the stage and entertainment. The technology of roller skates was dramatically improved with the invention of rubber wheels which allowed a sure grip on almost any surface and a smoother ride in the process.
Parts of a Roller Skate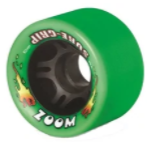 Generally, with two pair of wheels under each foot a roller skate is a very stable platform to roll around in rinks or on the streets. Bearings in roller skates connect the wheels to the axel and then to the rest of the frame and boot. A roller skate wheel is subject to significant wear and tear especially if roller skating outdoors and the wheel is a soft model designed for indoor use.
Boots for roller skates have been transformed in recent years from the traditional leather to softer, breathable synthetic fabrics for the casual, recreational skater. The most important innovation since the rubber wheel is a series of closure devices making it super quick to put your skates on, snug them up, and easily take them off while providing stiff support when using the skates.
Roller Skating Sports
As you would expect, there are a variety of artistic events including dance for singles and pairs. Artistic skates are great for doing tricks including jumps and Riedell is the company that dominates in this field.
Roller hockey is a niche sport where skaters use rules similar to ice hockey, but inline roller hockey is more popular as they are the best skates for turning. Racing is also done in roller skates.
Roller Derby
The cult sport of roller derby goes through phases of popularity and is a tough form of competition mostly practiced by women. Inline roller derby is also played but is not as popular. The oval shaped track for roller derby may be banked or flat.
The Inline Skate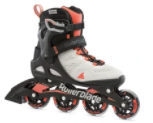 As a relatively new activity, the Rollerblade company made the first truly popular styles of inline skates. Skaters feel inline is a great skate since every wheel (regardless of the number) is in a single row.
It meant that speed, turns, and skatepark tricks were easier to accomplish with inline skates. Roller skates are very hard pressed to match inline skates in these categories.
Inline Skating Parts

Wheels and bearings are wear and tear items here too. A quick view of any material regarding inline skates will include discussions of the benefits and limitations of various wheels and bearings.
The boot will also depend on the intended activity. The style in parks looks more like a sneaker while hockey looks more traditional and recreation skaters who want comfort from heel to ball of the foot will have less rigid boots with clasps for binding systems.
Inline Skate Sports
While hockey and racing (including marathons) are big for inline, there are also extreme sports taking participants off the pavement and going cross country. Since inline skates are often used in an urban environment, plenty of large group events are organized with all the participants wearing inline or roller skates.
Prices
For the average participant, skate prices can be very reasonable. But for professional skaters who may use high end products like heat moldable boots, prices can spiral upward.
It is a good idea to wait for sales to purchase your skate but the risk here is that your size may not then be in stock. So, if you wait for just the right prices, your store may or may not then have the perfect size or color.
Shop Our Store
With our huge selection of skates, you can be sure your purchase will go in the box quickly - ready to ship. Our friendly customer service staff is here to answer your questions so feel free to call.
We carry tons of activewear (pick blue or nearly any other color too), accessories and bags to fully equip your skating. We are truly your best place for everything skating related.
Related Pages