Kid's Ice Skates
There is something special about seeing your daughter or son moving on kids ice skates for the first time. Their joy, laughter and sense of accomplishment is just as much fun for the adults as it is for the boys and girls.
Skating is a fantastic family activity often inspired by media coverage at the Olympics. In particular, the US ice hockey team and their Miracle on Ice in the Lake Placid Winter Olympics in 1980 inspired kids to throw on a pair of ice skates and chase a puck or do amazing jumps and spins. Parents are wise to seek advice on the best ice skates that are suitable for their young children before spending their hard-earned money.
Adjustable Ice Skates for Kids
Parents are justifiably concerned that their child will quickly grow out of their ice skates making ice sports an expensive activity. The good news is that kids ice skates usually can be adjusted up to four sizes on account of the innovations most brands have designed into these items.
3 Types of Kids Skates
1) Recreational Ice Skating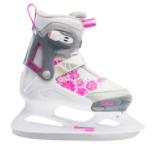 Regardless of the age kids start on skates, they should probably be on skates designed for recreational use. This kind of skate has user friendly blades, comfortable boots that support young feet and ankles, and easy to use binding systems.
2) Figure Skating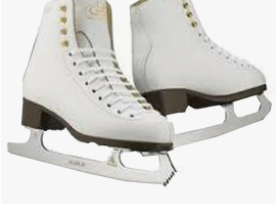 A skate made for jumps and spins are often what girls want to wear. Certainly, this style of skate is perfect for those interested in doing tricks but for those just learning to skate, this kind of ice skate can be tough to learn in.
Less Comfort, More Control
Mostly not adjustable, the very stiff boot and the blade with the dramatic toe pick make these less comfortable items for small kids. The balance and stability are in these ice skates but those looking for a first pair of girls ice skates (or boys) should search for other categories.
3) Ice Hockey Skates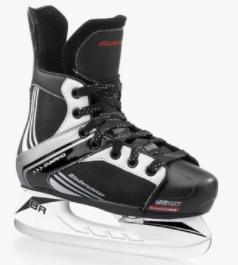 For kids who want to play ice hockey, you will shop for ice skates without a toe pick and extra padding in the front and back. Probably not for your toddler, but a customer shopping for kids ice skates will find a clear difference with hockey skates.
What Size Should I Order?
Start with the shoe size for your child and consult the brand size chart. Adjustable ice skates will have a band of sizes.
Excellent Customer Service
Don't spend unnecessary hours shopping for skates. Skates.com always has a huge selection in stock - all with a competitive price. Call us with questions.
Sales?
Sign up for our email where you hear about clearance sales where you get an even more amazing price!
Other Skates
If your skating life includes roller and/or inline skates, we have a huge selection. Check out our activewear too!
Related Articles