Best Roller Skates for Beginners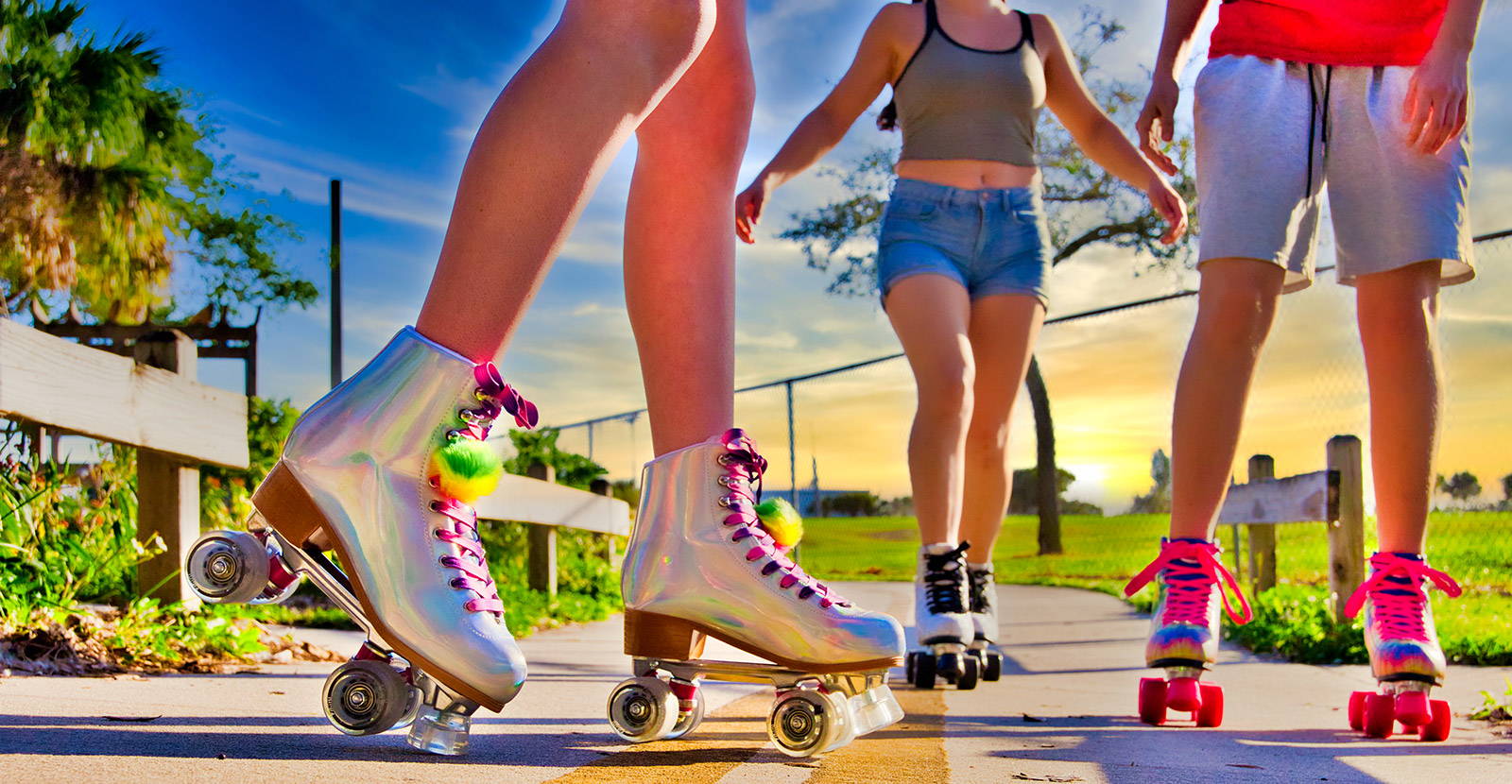 Eager to try roller skating but don't know where to start? Well, you're in the right place. Roller skating, is a fun activity that encompasses balance, dance, and athleticism – and the good news is you can begin learning at virtually any age.
In this article, we'll explore common questions beginner roller skaters ask, as well as tips for choosing a new pair of skates.
Questions You May Be Asking Yourself as a Beginner Skater
If you're a first-time skater, you may have a head full of questions. Roller skates are an investment, and so it's important to understand the fundamentals of roller skates before investing hundreds of dollars into a new hobby.

Explore these commonly asked questions to help you on your journey to purchasing your first pair of roller skates.
Are Roller Skates or Blades Easier for Beginners?
Roller skating and inline skates are easy to learn at any age, but your preference regarding which is 'easier' will likely boil down to exposure. If, as a kid, you grew up inline skating, roller skating will probably feel pretty foreign to you – and vice versa.
Roller skates, also known as quad skates, can be easier to learn how to balance on because of the four 'quad' wheels that help to distribute your weight evenly. However, a common problem for beginner roller skaters is learning to use the toe stops. If you've previously used inline skates, switching from a heel brake to a toe stop may take some getting used to. But if you're a true first-timer, you'll pick it up in no time.

Of course, we always recommend beginner skaters wear protective gear, including helmets, knee pads, elbow pads, and wrist guards.
Are Quad Roller Skates Easy to Learn On?
Quad roller skates can be easier to learn on, but they do take some time to feel comfortable. If it's your first time on a quad skate, it will likely feel unfamiliar.
Fortunately, the width of the quad wheel is much easier for beginners to develop their balance than rollerblades, but you may fall a few times starting out.
If you want to skate around the rink and eventually dance, spin, perform tricks, or join a roller derby team, learning how to roller skate is a prerequisite.
Can Adults Learn to Roller Skate?
Of course! Don't let your age discourage you from learning to skate. However, if you've experienced previous injuries, we recommend taking your time to learn the fundamentals before performing any advanced moved or playing roller derby.
In addition, protective gear is always recommended for skaters of all levels, particularly when you're first starting out to avoid serious injury.
What Should I Learn on Roller Skates?
First things first, you should learn how to glide on quad skates. Gliding involves the transfer of power from one foot to the next to propel you forward (or, depending on your skills, backward!). Gliding helps you build momentum so you can easily move across the rink.

Next, it's essential to learn how to brake using the toe stop. Braking can help prevent painful collisions, falls, or injury if you build up too much speed or have to navigate a person or object in your path.
Another vital skill to learn on roller skates is how to fall safely. Although it sounds contradictory, falling safely can help prevent serious injury to your wrists, shoulders, or other parts of your body.
To fall safely, bend your knees and allow yourself to fall forward onto padded knees. You should avoid sticking out your arms to 'catch' your fall. Otherwise, you could cause serious injury.

From there, the possibilities are virtually endless. You can learn to turn, skate on one foot, skate backward, speed skate for roller derby, or perform tricks. After that, it's up to you to decide how much progress you would like to make.
Picking Your First Pair of Skates
How Do I Pick My First Roller Skate?
One of the first questions you should ask yourself before purchasing roller skates is where you will wear them – indoor or outdoor?
Indoor skating requires skates that glide across the rink with little resistance. In addition, indoor roller skates usually have softer wheels that provide a sure grip so that you don't slip on polished wood or smooth surfaces.
That said, softer wheels are not designed for outdoor skating! Outdoor wheels are harder to avoid cracking or picking up debris. If you're going to be navigating over things like cracked pavements or light debris, it's crucial to select a pair of quad skates that come with outdoor wheels design for outdoor skating.
However, some wheels can be used indoor and outdoor. In this case, it's best to read the product description or chat with a Skates.com professional.
Which Skates are Best For Beginner Adults?
There are plenty of brands that offer great roller skates for beginners, but before we begin discussing specific brands and models, let's talk about features.
The most crucial aspect to good roller skates is whether or not they fit. Roller skates should not fit like your regular street shoes; there shouldn't be any room for your foot to slide forward or backwards.
Your toes and heels should feel snug within the skate boot, but not cramped. Start with skates that match your shoe size. If your toes are bent or in pain, you should size up. If there are any gaps at your toe, heel or base of the ankle, size down.

In addition, there are different boot options, including vinyl and leather boots. Skates with leather boots can be more expensive, but the boot is made to stretch with use and typically last much longer than a vinyl boot.
When purchasing your skates, you'll have the option to choose from high-top boots or low-top boots. For beginners, we recommend high-top boots to provide additional foot and ankle support. Especially when you're learning the basics, a high top boot can help keep the foot and ankle secure in the boot to reduce risk of injury.
The high top boot is commonly used in recreational, artistic, and rhythmic skating, and is typically what you associate with a regular roller skate.
Alternatively, a low cut boot allows for additional mobility and acceleration which makes them great for speed skating, jam skating, and roller derby.
What Roller Skates are Best For Kids?
A common concern most parents have is that their child is going to grow out of their roller skates too fast. The last thing you want is to purchase an expensive pair of quad roller skates only for them to be worn one season.
If this is a concern, consider purchasing adjustable kids skates. These skates are designed to grow with you're child, and you'll notice that they often look more like an inline skate boot than a traditional roller skating boot.

Also, if you anticipate that you'll be heading to parks or outdoor trails to find a place to skate, you'll want to make sure to purchase kids skates intended for outdoor use.
Do You Need Special Roller Skates For Outside?
It's a bit of a tricky question. You might not necessarily need special roller skates for outdoor skating, but your will need outdoor wheels. Some skates allow you to replace the quad wheels, trucks, and bearings, so that you can swap out wheels.
However, if you're a first timer, you may just want to grab your skates and go hit the street. For this, we recommend checking out our selection of the best outdoor roller skates.
What Roller Skates Do I need for Indoor Rinks?
If you see yourself spending most of your time at an indoor rink, you'll likely want to invest in a classic pair of indoor skates. Indoor quad roller skates have wheels that are softer to provide a sure grip on a smooth rink.
If indoor wheels are used on the street they can crack, which can result in an injury. To avoid this, and make sure that you're having fun on your skates, check out our selection of best overall skates for indoor use. We also offer derby skates for roller derby athletes, if you want to take your skating to the next level.
Best Roller Skates to Learn On
With enough grit and determination, you can learn on any skate. That said, we recommend skates with a classic profile, high top boots for better support, and midrange wheels and bearings so that you don't invest too much money before you've learned the basics.
Pro tip: if you get a skate with adjustable toe stops, you can get even more mileage out of your skate by customizing resistance as your skills improve.
Best Roller Skates for Women
Women have not shortage of options when it comes to roller skates. Whether it's brands like Moxi, Candi girl, or Fit-True, there's lots of cute styles that will match your personality.
As an added bonus, some women also choose to opt for men's skates, which can be beneficial if you have wider feet. If you go this route, just make sure that you find the closest sister-size to your regular women's size.

For aspiring roller derby athletes, develop your skills on a regular quad skates before making the transition to derby skates.
Best Roller Skates for Men
Although men's skates might not have quite as many poppy colors and patterns to choose from, that doesn't mean you can't find the right pair of skates to match your personality.
For men, the most important thing is to make sure that your skate matches the size, comfort, fit, and price that you're looking for. If it's your first time on skates, you don't need the fastest brand on the market. Opt for a classic skate profile and mid-range wheels while you develop.
Once you've got the basics, then you can explore our range of speed skates.
What's a Good Brand of Roller Skates?
At Skates.com, we recommend the Fit-Tru Quad roller skates for entry level men and women. These classic skates come in a variety of colors and sizes to match your personality, while offering the support and functionality you need getting started.

Fit-Tru Quad roller skates offer a breathable vegan leather boot that will help wick away moisture and anatomically correct insoles for comfort and support.
And the best part? Fit-Tru Quad roller skates are an affordable option for first-time skaters.
Are Moxi Skates Good For Beginners?
Moxi beach bunny skates are one of the most popular skate brands on the market, and it's no surprise – they're really cool! Although the regular price of Moxi's beach bunny skates may deter the entry level skater, Moxi does offer skates for beginners at a reasonable price point. Check back here to see when we have Moxi skates in stock!
Check Out Our Selection of Roller Skates on Skates.com
Are you ready to have fun on four wheels? Roller skating is a great lifelong hobby that can help keep you physically fit, develop community, and keep you movin' and groovin' for many years to come.
Find your first (or your next!) pair of skates by checking out our selection of indoor and outdoor roller skates on skates.com!