Women's K2 Alexis Boa Ice Skates
One of the best ways to enjoy winter is to put on a pair of ice skates and take a few laps around the rink. And one of the best ways to be comfortable is to wear K2 Alexis Boa ice skates for women's skaters.
In addition to the obvious benefits of filling your lungs with fresh air, skating is great exercise and is an activity that is a hit with kids and adults alike. Of course, it is important for ice skates to provide support for the foot and ankle and the folks at K2 have created an ice skate that does all of this and much, much more.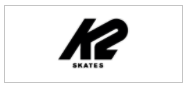 4 Important Features in K2 Ice Skates
K2 is in the business of making winter safe and fun for all. With world renowned ski boots, their experience translates well to ice skates for women, men and kids.
1) Enhanced Stability Cuff
Keeping you upright starts at the top of the boot. A sophisticated design for the cuff offers terrific support right where you need it.
2) BOA Fit System
With ice skates, you want a firm but not constricting overall fit. The BOA system gives you that custom feel that makes it easy to get these skates on and off while providing that support for the entire foot giving you stability.
Even beginners will appreciate the simplicity of operation when putting on a K2 ice skate as opposed to laces type systems. Ice skating is one of those sports where confidence is everything and K2 delivers that - and for a very reasonable amount of money.
3) Softboot Provides Warmth
A K2 ice skate is made of water repelling materials to keep your feet dry - a feature appreciated by women and men alike. The lining keeps feet warm so you can skate for hours until that hot chocolate is simply calling your name.
4) Stainless Steel Blade
It doesn't matter if you are using ice hockey skates or figure skates or any other flavor of ice skate: your blades will eventually need sharpening. K2's stainless steel will stay sharper longer and resist corrosion found in lesser quality skates.
Ice Hockey Skates vs. Figures Skates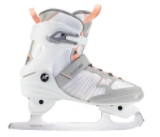 Every skater should have proper equipment for their sports. Doing figures requires a more durable blade and exceptional support in the boot especially to accommodate jumps.
In addition, their heel must be able to absorb the shock of landing. A hockey player may not need quite as much shock absorption in their skate.
Because of the need for stability, skates for spins and jumps will generally be heavier than those used for hockey. They will be stiffer and take longer to "break-in" too.
A pair of skates for hockey will not have the toe pick that is critical for figure skaters' spins and jumps. When hockey players (women and men) pull on the gloves, they are interested in the performance of the blade as they will abuse their edges as they play a game requiring abrupt turns and stops.
Recreational skates will have just a bit of extra room than either type of skate. Some casual skaters use somewhat thicker socks for more warmth.
A review of all the various combinations of attributes in ice skates can be confusing. The most critical variable is knowing exactly which activities on which you will be spending your time.
Women and men will be tempted to search the market for a single pair of ice skates that can "do it all." This search is likely to be less than perfect as it is with various forms of athletic footwear. Just like you wouldn't use running shoes to play tennis, ice skates have specific strengths you can discover in their reviews.
What Size do I Need?
If you know your shoe size, you can determine your ice skate size. K2 (and other brands) have a shoe size conversion chart if you wear non-US sized shoes for you to follow. You don't have to guess your shoe size so don't guess your ice skate size.
What About Price?
There is really good news on the price frontier on account of the fact that K2 knows that they would get a lousy review or reviews if they were to have a tremendously expensive skate that does not deliver for the customer. As a result, their skates have value prices due to the competition and because customers are savvy shoppers.
There are times, however, that you can find sales on K2. If you see K2 marked down, that is your signal to jump at the chance. You might not see that value again anytime soon.
Shop for the Best
Skates.com is proud to have a fantastic selection of ice skates and other products like inline skates and roller skates that get you moving. Looking for athletic clothing? We have what you need.
If you have questions, our team of local experts are here to help you out. Call us and see how friendly we are!