White Roller Skates
One of the best roller skating songs of all time (and heard at plenty of college football games) is Livin' on a Prayer from Bon Jovi. If you are at the roller rink in your white roller skates, you simply can't help it when this song comes on: you have to get up and let loose with your style as you cruise to this multi- Gold and Platinum hit.
Regardless of the color of your roller skates, it is helpful to understand their major features whether you are doing outdoor skating or rolling around an indoor rink. Shopping for roller skates can be fun for women, men and kids once you review the important pieces.
Roller Skaters' Equipment
Wheels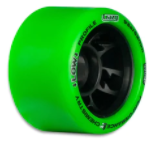 There is no doubt that wheels are the most important part of the skate. They are also subject to the greatest wear and tear.
A bad choice of a wheel is likely to mean less fun for you as you may be unable to shift your weight effectively or easily complete turns depending on the surface. These are fun though, in that they can help you customize your ride and look.
A quality pair of skates will have the optimum softness of the wheels depending on the surface you will roll on. For instance, outdoor surfaces usually call for a soft wheel to absorb shock and reduce vibrations to the foot.
Differences from Inline Skates
The wheels for inline skates are narrower and also vary based on the surface as to softness. If an inline skater is looking to roll longer distances, they may to want harder wheels outside to make it easier to maintain speed.
Beginners will usually want a softer wheel as speed is not their friend since they are unable to control it effectively. Both roller skates and inline skates can utilize a harder wheel indoors as the floor will have more natural grip.
Inline skates for hockey will call for different wheels thanks to the extraordinary stress placed on them in competition.
Roller Derby Wheels
Roller derby wheels are generally much harder than those used for fitness and recreation due to the need for speed. The banked turns on many derby rinks also make it easier to manage the tight turns.
Bearings
The part often overlooked despite the wear and tear they take are the bearings. Bearings need to be replaced periodically to maintain the intended relative ease of use for the skates.
Be sure to check the reviews on bearings on account of the wide variability as to quality and the amount of money required to replace.
Boot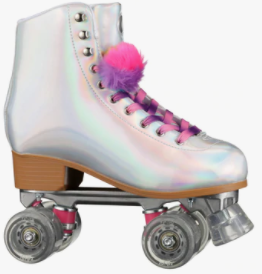 While you might target the traditional white lace up boot for your roller skates, there are all kinds of different styles, colors, binding systems, and materials being used today. Even the decision of a high cut or low cut cuff is up for discussion.
Appearance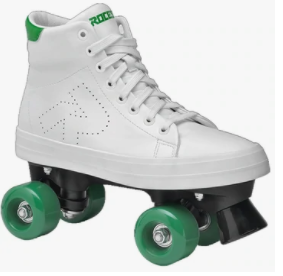 Maybe you want your skates to look like sneakers. Some kids will want a more colorful brand that features buckles or Velcro to simplify getting the skates on and off.
Whether you want stiffer leather boots or a lighter weight synthetic, just be careful to match your boots to your intended use.
A bunch of wild looks can make your skates a reflection of your personality. Don't be afraid to target something exotic if you feel exotic!
Plate
This part is what attaches the roller set to the rest of the skate. This hardware is always critical but especially so if you are headed outdoors to the skate parks that feature grinding and other tricks.
Where can I find deals on Roller Skates?
Skates.com has a huge supply of roller skates for women and men in stock and ready to be shipped. We sell a tremendous variety of roller, ice and inline skates.
Be sure to check out our sale page but once that stock is gone, the sale is over. So, act fast and check back often.
Protective Gear
Even if you are just gliding around the neighborhood, it is always a good idea to have the full array of protective gear. Helmets and pads are ready to be shipped to you or take advantage of curbside pickup in SE Michigan.
Questions?
Call us! Our friendly customer service team is happy to answer any questions.