Rollerblades Size 14
The famous celebrity brothers Chris and Liam Hemsworth reportedly have big feet therefore requiring a big shoe size. Whether they would need
size 14 rollerblades
or larger is anybody's guess but when it comes to
comfortable men's inline skates
it is not guesswork for men with a big shoe size: they need
big inline skates
.
For men or women with big hoofs participating in sports, finding footwear that makes them happy can be a challenge regardless if they are beginner, intermediate or aggressive, advanced players. If you are in a search for a proper rollerblade and you need sizes that are, shall we say, larger than average, you can have confidence you have come to the right place.
6 Features of Big Men's Inline Skates
Inline skates for big guys (or gals) will need several important characteristics to please these participants.
1. Wheels
These are critical in all inline skates. The skill of the skater should determine the softness of a wheel as well as the expected locations where the skate will be used.
Beginner men may want a softer wheel (even though it may wear faster) because of its ability to keep vibrations from getting to the foot. But an intermediate to aggressive skater may want a harder wheel on their inline skates to increase the ability to generate speed and enhance overall performance.
Because softer wheels will wear especially fast when skating outdoors, fitness skaters and others using their skates indoors can use softer models without fear. Using inline skates outside is not a problem as long as you are prepared to put new wheels on more frequently.
2. Inline Skate Bearings
These small items play a big part in connecting a wheel to a frame in inline skates. Larger sized skates don't need a bigger bearing but monitoring bearing wear and tear is important just like with any other size rollerblade.
3. Importance of the Inline Skating Boot
The boot is integral to the comfort of skates. A skate size will determine overall fit and comfort of the boots right out of the box so getting this right is critical for everybody. Consult the shoe to skates conversion chart for your brand model.
Hard vs. Soft Boots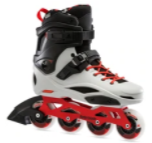 The key decision is whether to go with a hard or soft boot. The former is likely to provide more ankle support and more control but may be less comfortable.
Unlike kids inline skates that are adjustable as they grow, regardless of price, men's and women's boots are not adjustable although they may stretch a bit over time.
4. Frames
Men and women who need bigger sizes may consider the importance of having skates with an aluminum frame to provide the strong shell available in many brands. Shopping for an aluminum frame is easy on account of the many frames available to buy.
5. Closure System

Whether using laces, knobs or a buckle or two, there is an element of personal preference, but it is important to have support from cuff to toe in all skates as is provided by the closure systems. Look for brands giving you options to figure out what is best for you.
6. Brake
Advanced skaters may use the powerslide to stop, but for everyone else a brake will be a useful tool to include in your filter. Kids and adults alike benefit from them.
What about Price?
Everyone from those buying fitness skates all the way up to those who want skates for racing marathons or even skates for off road adventures, should have price as one criterion. But if you search your menu and find a brand with the right sized skates that fit your needs, your urge to shop may well be satisfied.
Gently used skates are sold at a significant discount and are worth including in your filters. Search our sales page for options.
Search for Quality
Please take a break and shop Skates.com for all the highest quality skates available. In addition to skates for adults and kids, get your helmet and other protective gear too.
Our friendly staff will help you shop and are happy to answer questions. Our shipping is prompt too!