Risport
A Tradition of Quality
For over 50 years, Risport roller skates and ice skates have maintained a tradition of quality and performance. Founded in Montebelluna, Italy, in the 1970s, Risport skates strike a balance between top-tier materials and affordability. Frequently worn as the go-to brand by world-class figure skating and roller skating athletes, Risport also offers beginner models to support the journey of young and developing skaters.
How much do Risport skates cost?
The price of Risport figure skates ranges depending on materials and performance level. For example, beginner to intermediate figure skaters may want to purchase a complete pair of ice skates, which include boots and blades. These ready-to-skate pairs often range between $100-$150. However, performance athletes may want to invest in specialty boots that are agnostic to different blades for different forms of skating. In addition, these boots are designed to provide more cushion and support than a typical introductory skate to minimize injury over time.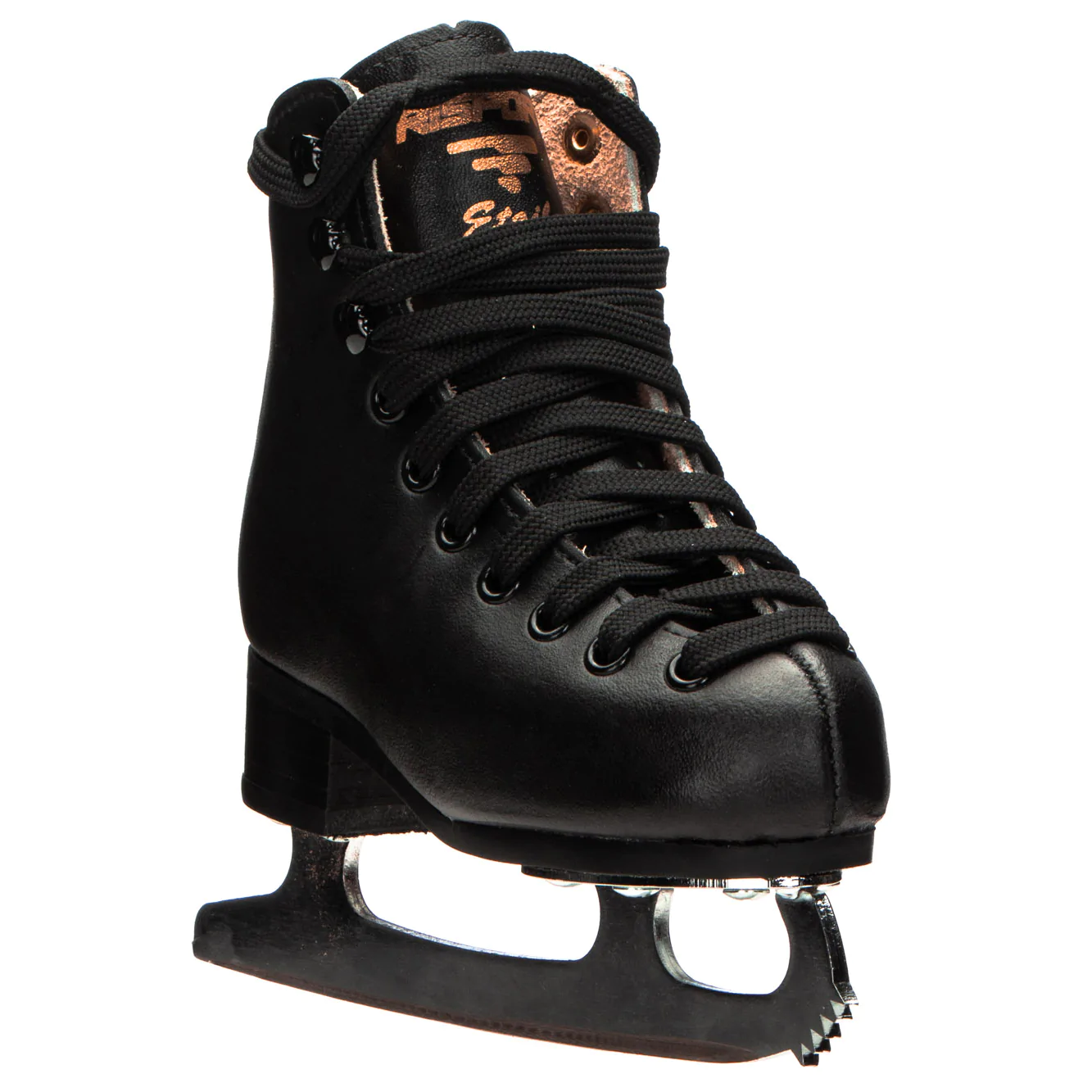 What are Risport skates made of?
Risport skate boots use high-quality leather materials for comfort, flexibility, and support. Boots typically consist of a leather sole with a finished split leather boot and suede leather tongue.
At Skates.com, we carry a variety of Risport skate boot models, including:
Risport Super Diamant
Risport Super Quasar
Risport Super Nova
Risport Cristallo
Risport Star
Risport Laser

Boot model availability is subject to change. If you'd like to order a specific boot model, please reach out to a Skates.com associate.
Where are Risport skates made?
Risport skates are manufactured in Montebelluna, Italy using tried-and-true manufacturing methods that are mindful of tradition while empowering performance with cutting-edge design innovations.
Are Risport skates heat moldable?
If you're looking for a custom-fit boot to improve skate performance, reduce impact, and provide long-lasting comfort, Risport boots are perfect for you. In addition, Risport boots can be professionally molded using a heat treatment to adapt to the shape of your foot to reduce pain points and improve maneuverability and control.

If you would like to have your skate molded for the perfect fit, please contact a Skates.com associate for more information.
How do you break in Risport skates?
Be prepared for your skates to be stiff for the first several wears. Although methods can help break in Risport skates more quickly, planning your break-in period before any major skating events or performance competitions is essential. If your break in your skates incorrectly, it can result in uncomfortable creasing or twisted boot tongue, which can be detrimental to your skate performance.
Instead, take your time. For beginners, tighten and re-tie your laces after every 20 or 30 minutes of wear. This method is helpful to ensure that the boot stays close to the ankle as the leather becomes more worn. As you advance your skating practice, you will likely adopt more break-in methods to perfect to fit and function of your skate.