Black Roller Skates
There is something magical about black roller skates. A little bit retro; a little bit spooky but all the time the perfect way to get around the rink or the neighborhood bike path.
The great thing about black roller skates is that you never have to worry about them going out of style. The look is timeless, and you will find the appearance is designed to look just as good when you are 16, 26 or 86.
5 Kinds of Roller Skating
There is no such thing as roller skates that are just right for every type of skating. The happy news is that there are black roller skates designed for your favorite version.
Recreational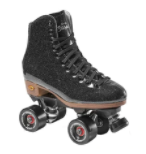 For beginners and those who just want to throw on a pair and go, the skates for this group will have a comfortable feel. The boot will provide support without working like a boa constrictor.
Outdoor Skating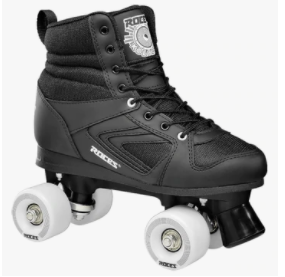 A pair of outdoor skates will have a somewhat softer set of wheels to handle the various cracks, bumps and debris found on sidewalks and bike paths.
Derby Skates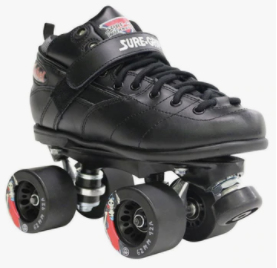 While black isn't the only color in derby it really dominates. These skates are specifically designed for stability in this high contact sport. The Roller Derby brand is a big name, as you would expect, in this category.
Artistic (Dancing) Skates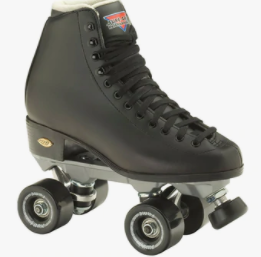 To dance on quads requires a special set of skills. The equipment is different too as skates for these events will generally have a toe stop on them to make tricks possible.
Rhythm
Many types of skates now have low top boots but not rhythm. These must have high tops in order to allow for the variety of tricks involved in this activity.
What About Prices?
As you will find with most kinds of skates, the more specialized they are, the more likely they will be at the top of any price range. But Skates.com can sometimes offer a fine pair of roller skates at an incredible sales price.
Deals can be hard to come by so check back often and don't wait to put them in your cart as they are likely to go fast. Black roller skates are always in demand as black is an extremely popular color.
Recently however, a number of very fun and interesting patterns are being added to black skates. Grab them if you find them!
What About Adjustable Skates?
One thing that is for sure is the fact that your kid's feet will grow. A few years ago the industry figured how to make kid's skates adjustable, so parents don't have to buy new pair every time their son or daughter goes through a growth spurt.
Most kid's recreational skates are adjustable. Specialty skates however, are often not adjustable.
Need Parts?
Your wheels will wear out at some point and bearings too. In order to keep your skates in tip top shape, wheels and bearings should be replaced so you can enjoy skating at its best. No need to replace the complete pair when all you need are wheels or bearings.
Fill Your Cart at Skates.com
It doesn't matter if you are looking for quad, ice or inline skates as we have a huge selection in stock and ready to ship to your front door. Need a spare part? We've got a bunch of them too.
Protective Gear
If you haven't updated your protective gear in a while, we have many choices of helmets and other gear designed to make you skate without worry. There are sizes for adults as well as kids.
Clearance Sales
Want to hear about sales? Sign up for email updates so you have the inside scoop on deals when they are coming up.
Questions?
Call us! Our friendly customer sales team is ready, willing and able to take your calls!