What To Wear When Ice Skating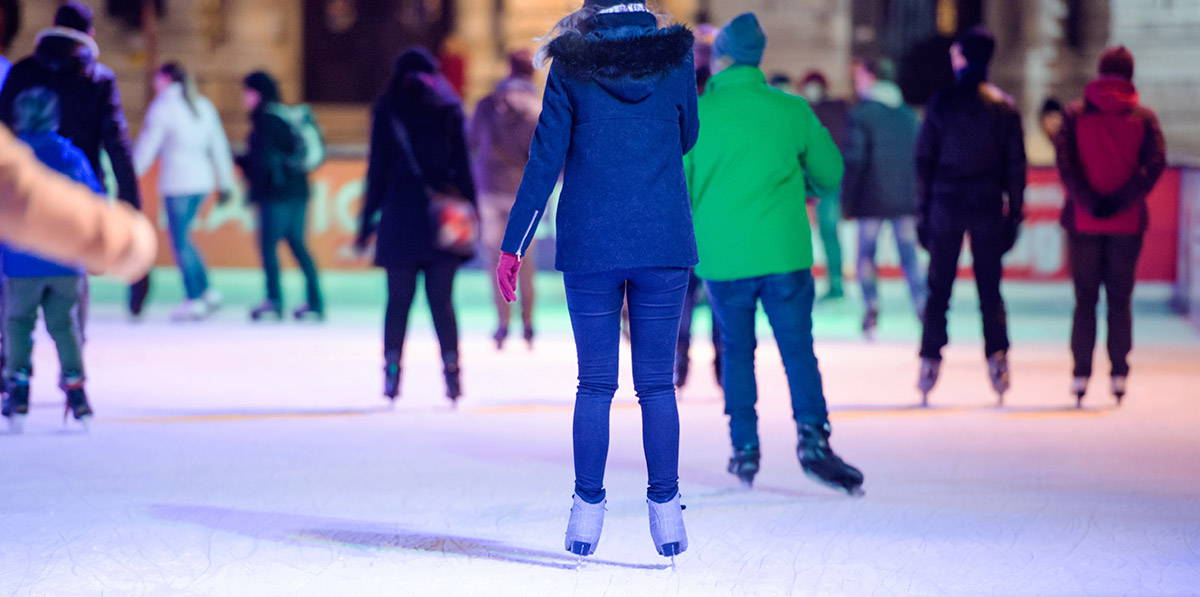 Are you headed to the ice skating rink for the first time? You might be wondering what to wear when ice skating. Do you need to dress for the cold? Wear flexible clothes for more movement or clothes with more padding to prevent falls?
We know you've got plenty of questions, so we've compiled a frequently asked questions guide to help you find the best attire for indoor and outdoor ice skating.
Frequently Asked Questions:
Is it cold on ice skating rinks?
It can be!
Depending on your region and season, you may skate on both indoor and outdoor ice rinks. Skating outdoor in the winter is typically much colder than an indoor rink. However, indoor rinks can still be chilly and may require a few additional layers.
Generally speaking, you will likely need to wear more cold gear for an outdoor rink than for an indoor rink.
How do I dress for ice skating?
The most important thing to consider when preparing to go ice skating is coverage. Ensure that you have layers of clothing that you can take off as you warm up or put on as you cool down after ice skating.
It's also important to consider hats, earmuffs, scarves, and warm gloves to ensure that you don't lose heat from sensitive areas.
What should I wear when ice skating for the first time?
Whether you're headed to an indoor ice rink or an outdoor rink, you'll want to make sure that you layer up to protect yourself from the cold. Although you may want to add a few extra layers to protect yourself from the elements outdoors, your skate wardrobe will be built on the same foundation.
Here are a few items you may want to wear on the ice:
Long pants

Long sleeve shirt

Sweater or jacket

Socks

Gloves

Scarf

Hat

Optional – helmets and pads
And of course, don't forget your ice skates!
What do women wear ice skating?
Women have a lot of options of clothing to wear on the rink. Although it's important to dress for the weather for outdoor rinks, there are more options for indoor rinks. Dresses, tights, comfortable pants, long sleeve shirts, gloves, scarves, and headbands can be mixed and matched to create the perfect outfit.
What do men wear ice skating?
It may seem like there are limited options for men's skating attire, but there doesn't have to be. One of the most common questions that arise is what pants to wear.
Although some men may feel less comfortable in yoga pants, hiking or running pants can be a great alternative. When paired with a thermal base layer, hiking pants offer movement and wind resistance to help men have a wide range of motion on the ice.
Otherwise, non-competitive ice attire is similar to women's. It would be best if you had a pair of good socks, a long sleeve shirt or sweater, a jacket, gloves, a scarf, and a hat to keep you warm on the ice.
Can you wear jeans for ice skating?
Although it's not uncommon to see recreational ice skaters wear jeans, it may not be the best option. Jeans are stiff and limit the range of motion. In addition, jeans do not hold warmth well and aren't great at wicking moisture.
In a pinch, you can wear jeans, but we recommend wearing long thermal pants instead.
Can you wear leggings to go ice skating?
Leggings are great for figure skating because they're flexible, help prevent skin scrapes on the ice, and help wick away moisture. However, leggings are most suitable for indoor rinks where wind protection is unnecessary.
For outdoor rinks, consider wearing yoga pants underneath long pants for an extra layer of thermal protection.
What pants do men wear ice skating?
For competitive figure skating athletes, men typically wear black or navy pants that resemble dress pants. Although they may look like regular dress pants, they usually have an elastic waist, a fake fly, and are made out of a polyester-spandex blend for a more tight fit.
Should you wear thick socks with ice skates?
We don't recommend wearing thick socks with ice skates. Although thick socks may seem like a good idea, they can do more harm than good when ice skating.
Thick socks may help keep your feet warm when figure skating, but are less likely to wick moisture. As you get warm and your feet begin to sweat, thick socks will hold onto moisture and can cause your feet to get cold more quickly than thin, moisture-wicking socks.
What kind of socks do ice skaters wear?
Socks for figure skating are a bit different than traditional socks. Ice skating socks have a thinner seam than regular socks to help eliminate toe pinching. In addition, instead of cotton, ice skating socks typically are made out of a thin microfiber material that helps keep feet warm while wicking away moisture.
In addition, ice skating socks typically come in crew or knee-high lengths. Higher-length socks help prevent rolling and bunching in the boot, and can also help keep ankles and calves warm to prevent cramping and muscle soreness.
Do professional ice skaters wear socks?
Typically, yes!
Although you often see professional female figure skaters wearing thin tights and colorful costumes, what you may not notice are socks. It's not uncommon for professional ice skaters to wear socks over their tights to prevent their feet from getting cold and reduce slipping or bunching within their ice skates.
How do I stop my feet from hurting when ice skating?
It's no secret that ice skates aren't as comfortable as regular street shoes, but that doesn't mean that they should be painful. If you're wearing appropriate socks and your ice skates are still painful, double-check to make sure that you're wearing the right size ice skate. Skates should be snug, but they shouldn't be tight or cramp your feet.
When you're first getting started, wearing rental skates can help you get a feel for your size. Once you find a comfortable size in rental skates, you can begin searching for the perfect pair.
Check out our Ice Skates Recreational Buying Guide to learn more about how to find properly fitting ice skates.
Why do ice skaters wear tights over skates?
If you've ever wondered why some figure skates wear tights over their skate boots you're not the only one.
Although it may seem counterintuitive, wearing tights over figure skates can help prevent laces from becoming undone and tripping or tangling athletes.
What do you wear to ice skate in the summer?
There aren't many outdoor rinks in the summer, as you can probably imagine. Because of this, you'll need to plan your outfit for an indoor rink. Although you'll still need typical attire like long pants and a jacket or long sleeves, you'll likely be too warm if you wear the same clothing as an outdoor rink. For this reason, bring a spare change of clothes so that you can keep cool in the summer heat after your session on the ice.
Get the Right Ice Skating Attire to Wear Year-Round
Does your athletic gear need a boost? Check out our selection of all-season fitness brands to supplement your figure skating attire with clothing from Skates.com.